Latest posts by Rosie Greaves
(see all)
With more and more people using online banking, it's hardly surprising that we've seen an influx in consumers switching to completely digital online banks.
This prompted us to take a look at two of the leading online-only challenger banks: Ally Bank vs Simple Bank. Customers can expect top-notch banking services from both these platforms at low fees.
What's an online-only bank, you may ask?
Well, they're also known as a digital or digital-only bank. So, don't let the terminology confuse you.
But put simply, this is just like a traditional bank that provides all their banking facilities online, either through an app or internet browser. They don't have physical branches you can visit like your local credit union or national chain bank, so all their services are delivered via automated processes.
What about customer support?
Customer service usually comes in the form of in-app chats, email, or telephone conversations.
Though many still prefer having an actual building to visit, there's certainly a call for this sort of banking — especially those with crazy busy schedules.
Digital banks (usually) also provide other appealing features like spending forecasts, budgeting tools, spending updates, and being able to freeze and unfreeze your card instantly. Just to name a few!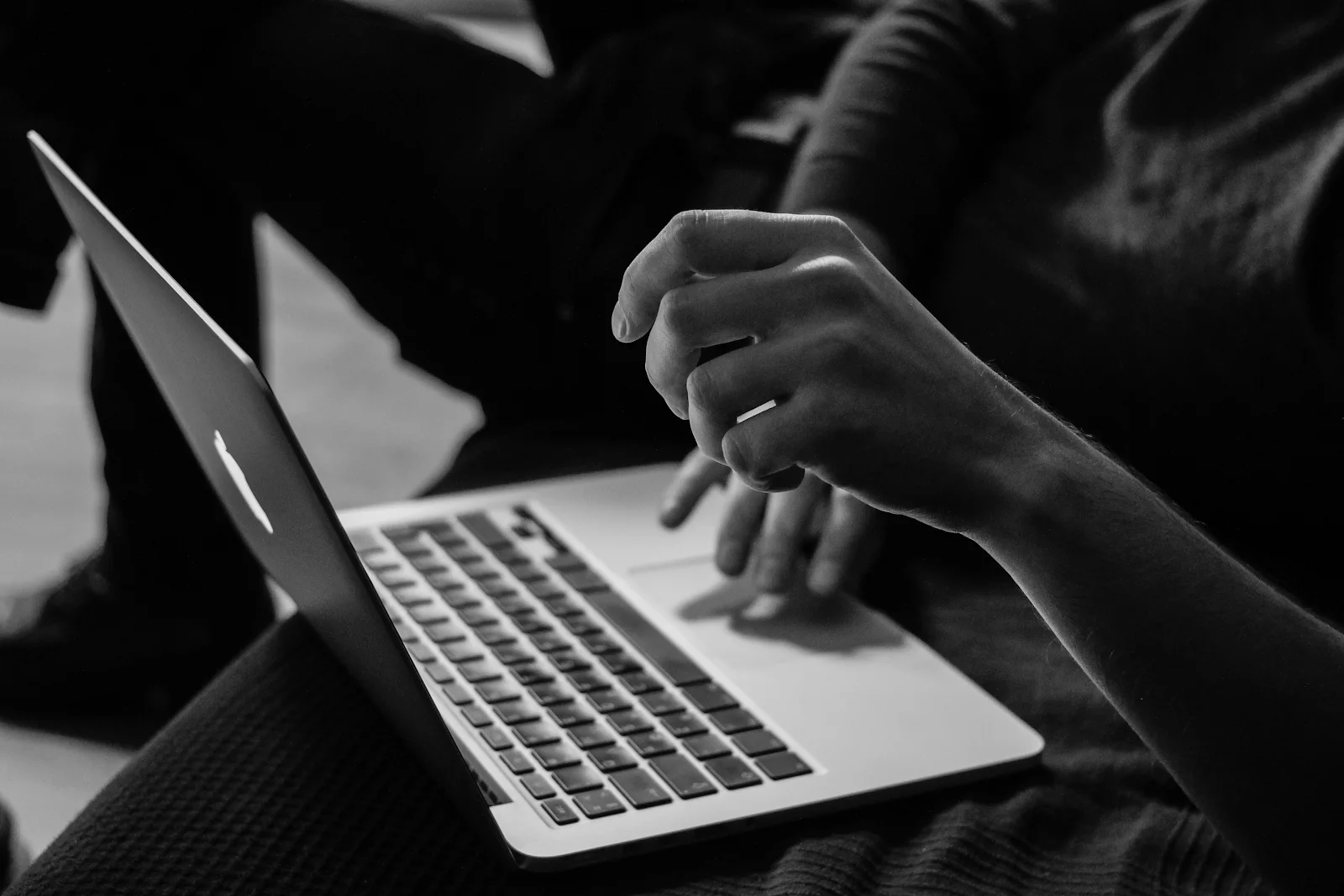 So, why choose an online-only bank?
Well, reading this article should provide a more in-depth answer to this question. But in short, you're more likely to save money on transaction fees and get a better interest rate. Namely, because banks don't have hefty overheads to cover.
Changing from a traditional in-person branch bank (brick and mortar banks) to a digital one can seem like a daunting step. So, how can you be sure the bank you choose is the right one for you and your needs?
This article will walk you through what both Ally Bank and Simple Bank have to offer. So, you can get a better idea of which one suits you best. Let's get started!
Ally Bank vs Simple Bank: Find the Best Bank for Your Banking Needs
Ally Bank
Ally Bank started the business nearly 100 years go, helping auto dealers maintain their inventories and finances. Since then, Ally has provided car insurance and now offers banking services.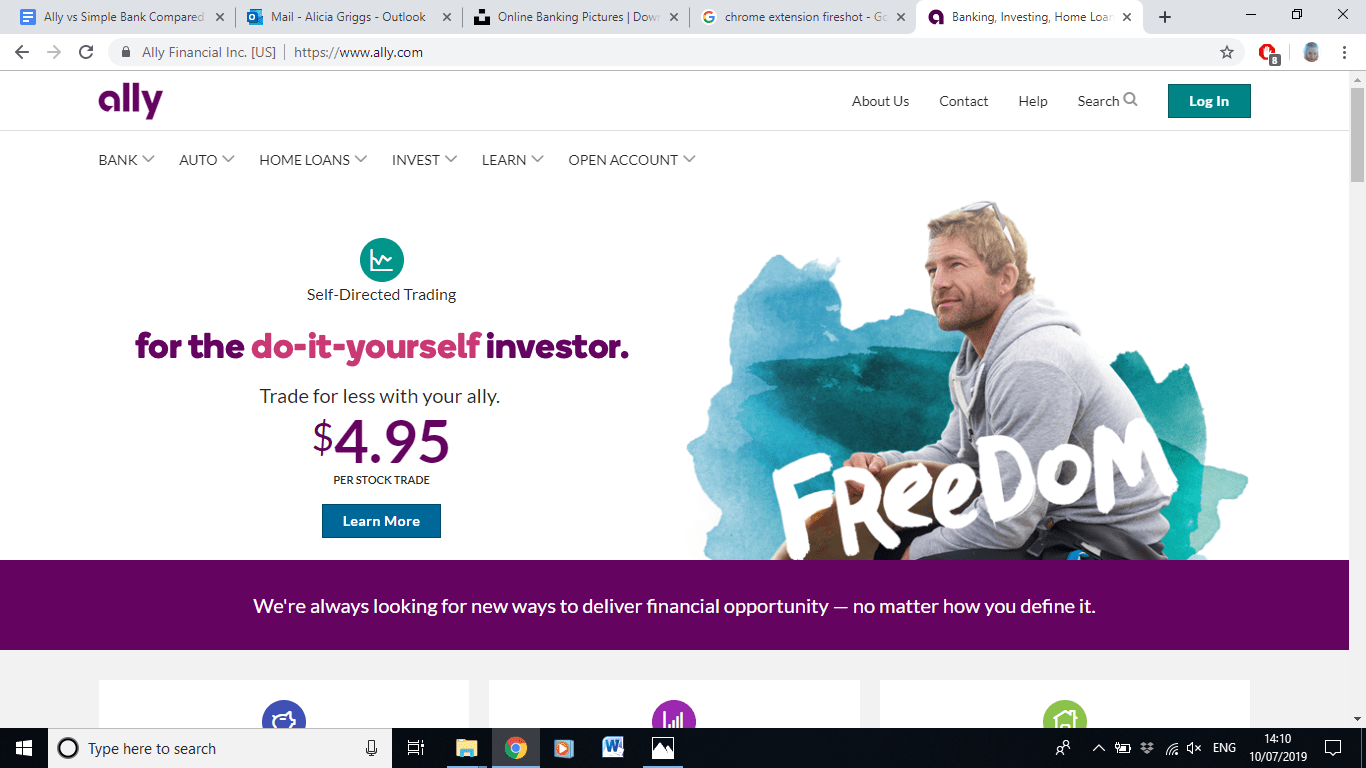 There are numerous financial benefits to using Ally Financial Inc, ranging from yield savings accounts (Ally Savings Account) to long-term Certificates of Deposit (CD), to secure-growth IRAs.
On top of this, Ally Bank also offers customers one of the highest interest rates on the market, regardless of what kind of account you open.
In fact, even the basic online savings account earns interest that's way above the national average (truly high yield). Nice!
You'll also be pleased to hear that standard checks, cashier's checks, statement copies, and account maintenance, are amongst the many things you're not charged for. You'll only have to spend money on things like going into your overdraft.
You may be wondering how you can access your money with an online-only bank? For this, you can either go online, use an ATM, or call the bank directly.
Customers can access more than 40,000 free Allpoint® ATMs in the US. Plus, you can use non-Allpoint® ATMs. Ally Financial will reimburse a maximum of $10 worth of ATM charges per bank statement.
Simple Bank
In 2009, Simple Bank's future founder Josh Reich emailed his friend to vent about how complicated and inconvenient banking was. He lamented over the unnecessary products, long holds, convoluted conversations, and hidden charges.
This email was the catalyst for the creation of a bank that could provide customers with an easy-to-use and personalized experience. They wanted simple banking…therein lies the origin of the chosen name.
With Simple Bank, there's no need to plan your day around inconvenient opening hours. You can access tons of banking services at any time. For example, direct deposits, third-party services like Paypal, blocking your card online if it's been lost or stolen, and much, much more.
Simple Bank offers only one account- a checking account. This is FDIC-insured and comes with a Simple Visa Debit Card. It doesn't pay any interest, although the Simple Protected Goal does (read on for more on this).
What does FDIC-insured mean?
FDIC stands for The Federal Deposit Insurance Corporation. It's an independent federal agency which insures deposits in U.S banks in the unfortunate event of a bank failure. Since 2018, the FDIC now insures deposits of up to $250,000 per depositor.
One of the services Simple Bank offers customers is Goals, which allows you to keep money in a "digital envelope." That way, you can save towards a future expense, be that a holiday, rent, or a new TV.
Another excellent feature Simple provides is the Safe-to-Spend® tool, which automatically notifies you about the amount of money you're 'safe to spend' while in-keeping with your budget. Needless to say, this hallmark provides some much-needed peace of mind to customers who want to stay on top of their finances.
This intelligent budgeting tool takes into account your current balance, future bills, and budget. So, you can see the money you have to play with without doing the math yourself. That's pretty nifty!
It doesn't stop there though with this bank. Simple goes a step further than Ally in terms of charging you additional costs. With Simple, you don't pay any fees for Allpoint® ATM usage, card replacements, or even overdrafts!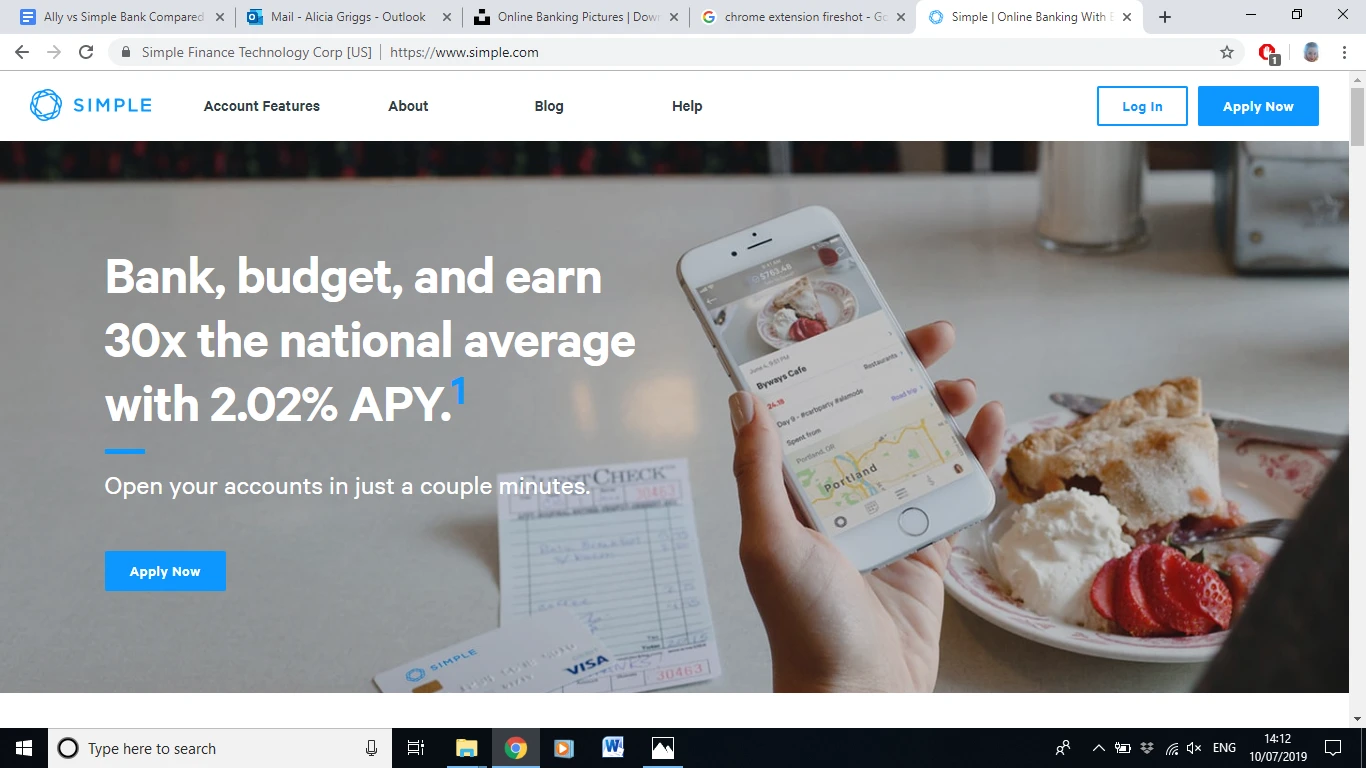 You may have read the above and still feel conflicted about which of the two banks suits you better, so let's take a look at the two banks side-by-side.
Their Main Similarities and Differences
A few of the more notable similarities:
Neither has a monthly fee
There's no minimum deposit
Both have 55,000 All Point ATM Access
Both offer simple checking accounts
Neither bank has a physical branch
Both provide easy-to-use web and mobile apps
Bother offer around the clock customer service
What about their main differences?
Ally Financial offers a Mastercard debit card whereas Simple Bank offers a Visa debit card
Current rates for Simple are 0.01% APY, whereas, Ally Banks are 0.10% APY for balances below $15,000 and 1.50% for balances of $15,000 and over.
Ally Bank offers a high yield savings account; Simple Bank doesn't.
Ally Bank offers Money Market accounts, whereas Simple Bank does not offer Money Market products
Ally Bank has a maximum once per day overdraft fee of $25; Simple Bank has no charge
Ally Bank also offers companion investment services with Ally Invest; Simple Bank just focuses on the banking side
Let's look at some of these features in greater depth…
1. Savings
In a nutshell, Simple Bank's Safe-to-Spend® tool helps you keep on top of your budget. Whereas, Ally Bank's high-yield savings account makes it easy for you to boost your emergency funds.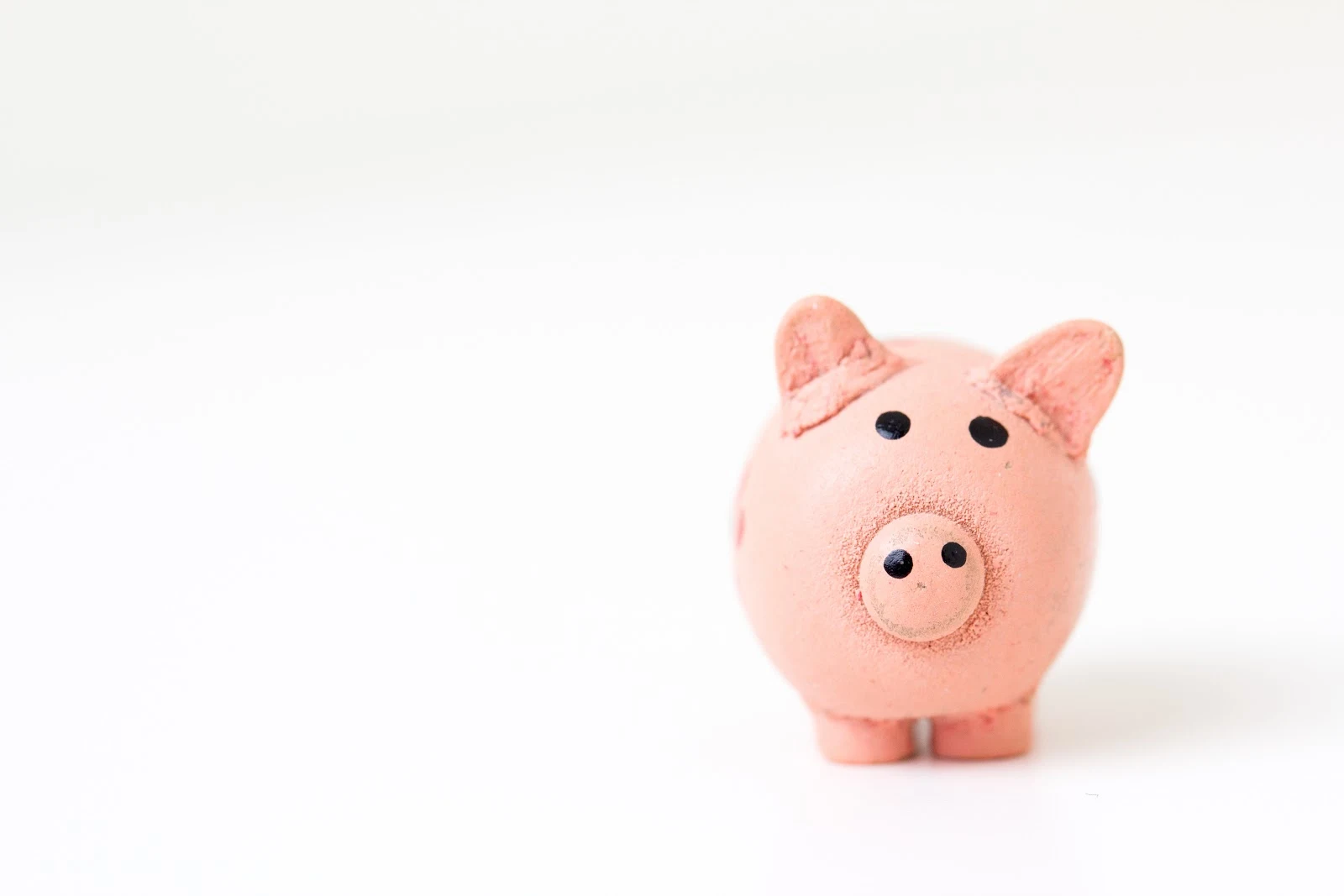 Ally Financial also offers a product called 'Ally Savings Account.' This has a competitive APY (typically among the top marketing leading rates) and doesn't require a monthly fee. Simple Bank, on the other hand, doesn't offer saving accounts but offers 'Goals', in the form of a 'Protected Goal Account' or 'Emergency Fund Goals'.
A savings 'Goal' is automatically created when you open a Protected Goals account on a personal or shared bank account. Interest credits are deposited there at the end of each month, but be aware that you only get the high yield APY when you have a minimum of $2,000 in your Savings Goals.
Whereas, the Emergency Fund Goal is where you put aside money in case an emergency arises (vets, doctors, surprise leak)- I guess the clue is in the name with that one. Once this is set up, automatic contributions are transferred over into this emergency fund.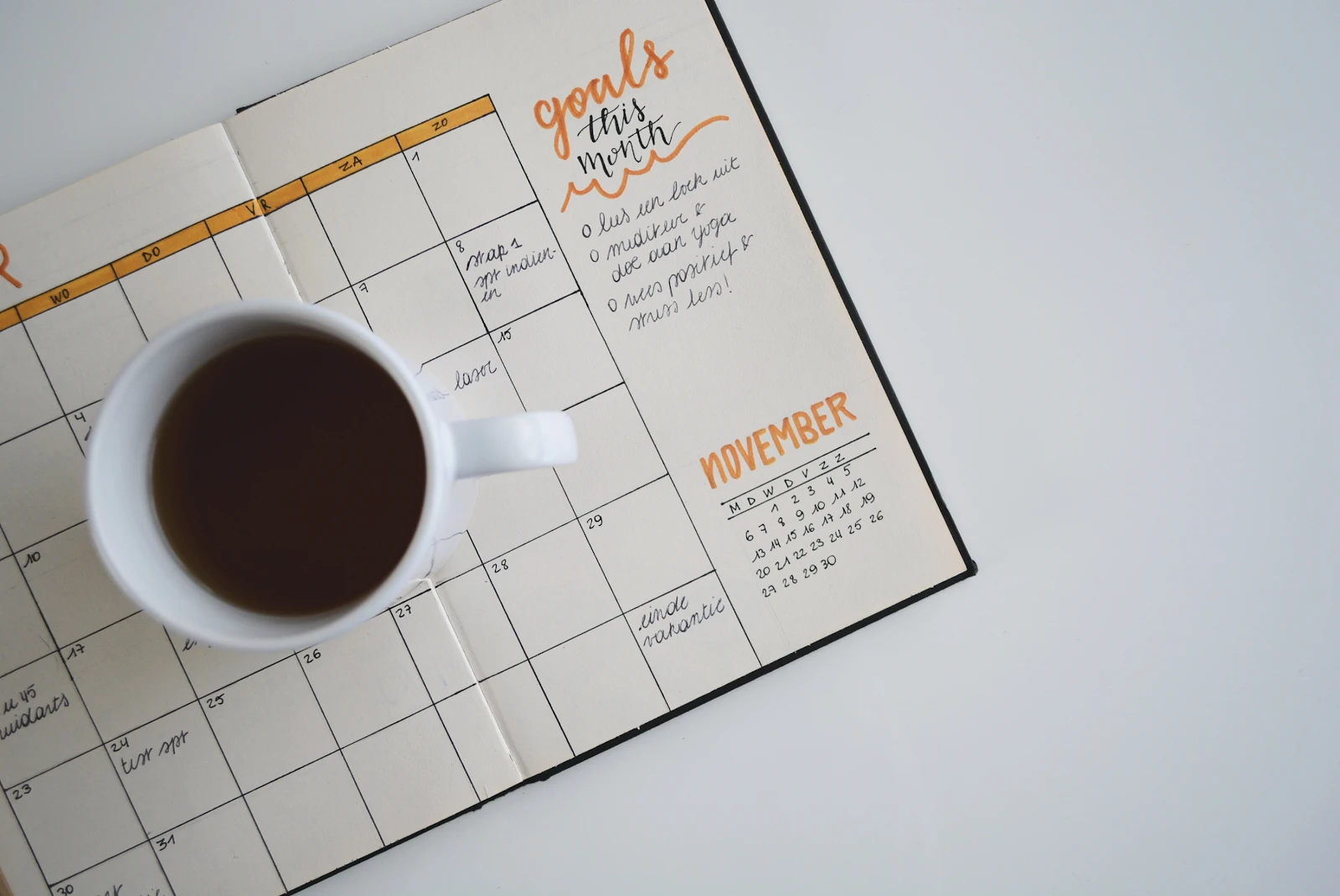 Overall, one of the best savings accounts on offer is from Ally Bank. They require no initial deposit upon opening the account, and it's easy to transfer money between checking accounts and savings.
Even though Simple doesn't officially offer a savings account, its Goal tool can help you save money. You can also set up recurring and automatic transfers to stay on top of your financial targets.
Adding to this, the Safe-to-Spend® tool offered by Simple helps to hold you accountable for your budgeting and spending.
2. Checking Accounts
What's a Checking account?
A checking account is also known as either a transactional account or a demand account. In short, it's a deposit account where you can make withdrawals and deposits. Both Ally Bank and Simple Bank offer these kinds of accounts to their customers.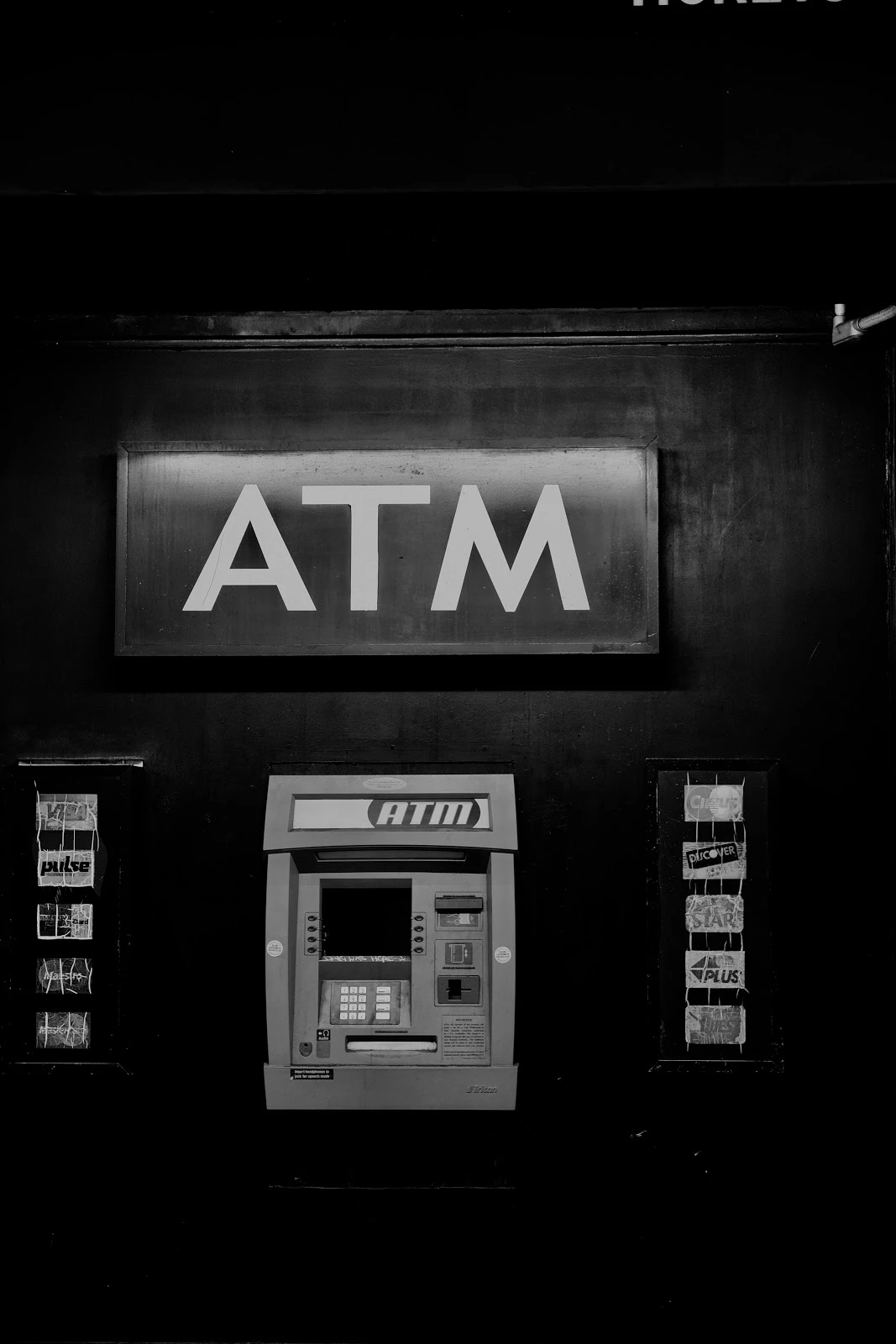 Ally offers an Interest Checking Account, with 0.10% APY for deposits less than $15,000, and 0.60% APY for more significant deposits over $15,000, while Simple offers 'Fee-Free Checking'. Neither have monthly fees attached to them nor do they require a minimum deposit amount.
Though you'll earn interest with Ally Bank, you won't really notice this unless you have a considerable balance. Both banks offer budget-friendly options and excellent ATM access, so finding a place to withdraw cash for free shouldn't be a problem.
3. Overdrafts
I don't know about you, but overdrafts have been a life-saver for me in the past! Ally Bank imposes an overdraft fee of $25. This is well below the national average of $34. Best of all, Ally won't charge you this fee more than once a day, whilst Simple Bank doesn't hit you with any overdraft fees!
Ally Bank doesn't charge extended overdraft fees, and overdraft protection is offered for free. Although Simple Bank doesn't offer overdraft protection, they usually return transactions that would result in an overdraft or prohibit the purchase altogether.
4. Certificate of Deposit
What's a certificate of deposit?
A certificate of deposit is a promissory note from the bank. It's a time deposit that limits holders from withdrawing funds.
Ally Bank offers a High-Yield Certificate of Deposit with varying interest rates that depend on the length of the term. Many banks require a deposit of $1000, but Ally Bank doesn't require a minimum deposit amount. Though be aware that a penalty will incur if you make an early withdrawal.
At the time of writing, unfortunately, this isn't something Simple Bank offers its users. Note: Ally also offers Money Market products.
5. Checks
Simple Bank charges $5 for a book of 25 paper checks. They state the cost is to cover the materials and shipping. The checks are shipped to the address listed on your account and should arrive within five to seven business days, from the day you requested them.
If you find you don't have the funds to clear a check, you won't be charged when the check bounces. Simple just sends you a quick support message to let you know when this happens so you can make other arrangements to pay them.
Whereas, Ally Bank sends its checkbook free of charge, alongside your new debit card. You should get this in the mail ten business days after Ally Bank receives your opening deposit. When you're running low on checks, simply go online and order another book, and it should arrive within ten business days.
6. Limits
For your protection, Ally bank sets a debit card limit of $5,000 worth of purchases each day. If you know you're going to spend more than this, or there's a unique circumstance, just call them in advance. They'll then exceed the amount for a one-time, extended limit.
Simple has also set several limits on what you can spend both daily and monthly. They state they're usually unable to extend these limits, but they can help you find alternative ways to make a purchase. For assistance with this, you'll need to either call them or send a message.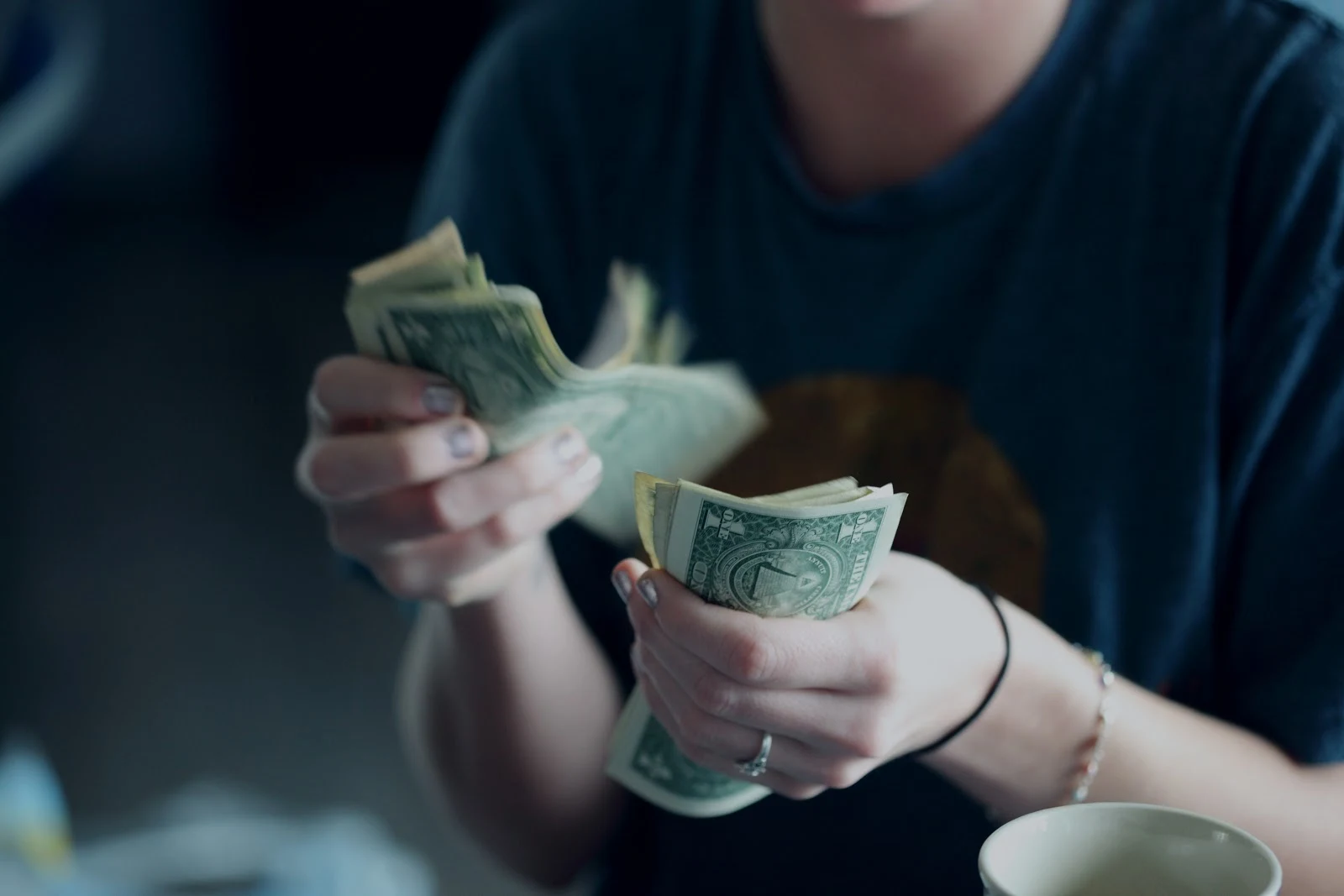 Simple limits include: daily card transactions of $6,000 ($1,000 international); daily payments of $5,000, with a monthly limit of $18,000; daily ATM withdrawals of $500 ($500 international). Simple can temporarily increase international daily limit to $6,000 if notified in advance.
In terms of transfer limits, Simple allows external accounts to transfer up to $5,000 in and out of your Simple account within 30 days of your account being approved.
After that time, you can transfer up to $10,000 per day, and $30,000 per month. For instant transfers, Simple allows you to send $2,000 during the first 30 days of your account being approved. After 30 days, you'll then be able to send $2,000 per day and $10,000 per month.
7. Branches
Like we've already said, these banks aren't interested in traditional brick and mortar approaches to banking. So, it's hardly surprising that neither have a physical branch. Both offer mobile and web interfaces that are easy-to-use and provide 24/7 customer service.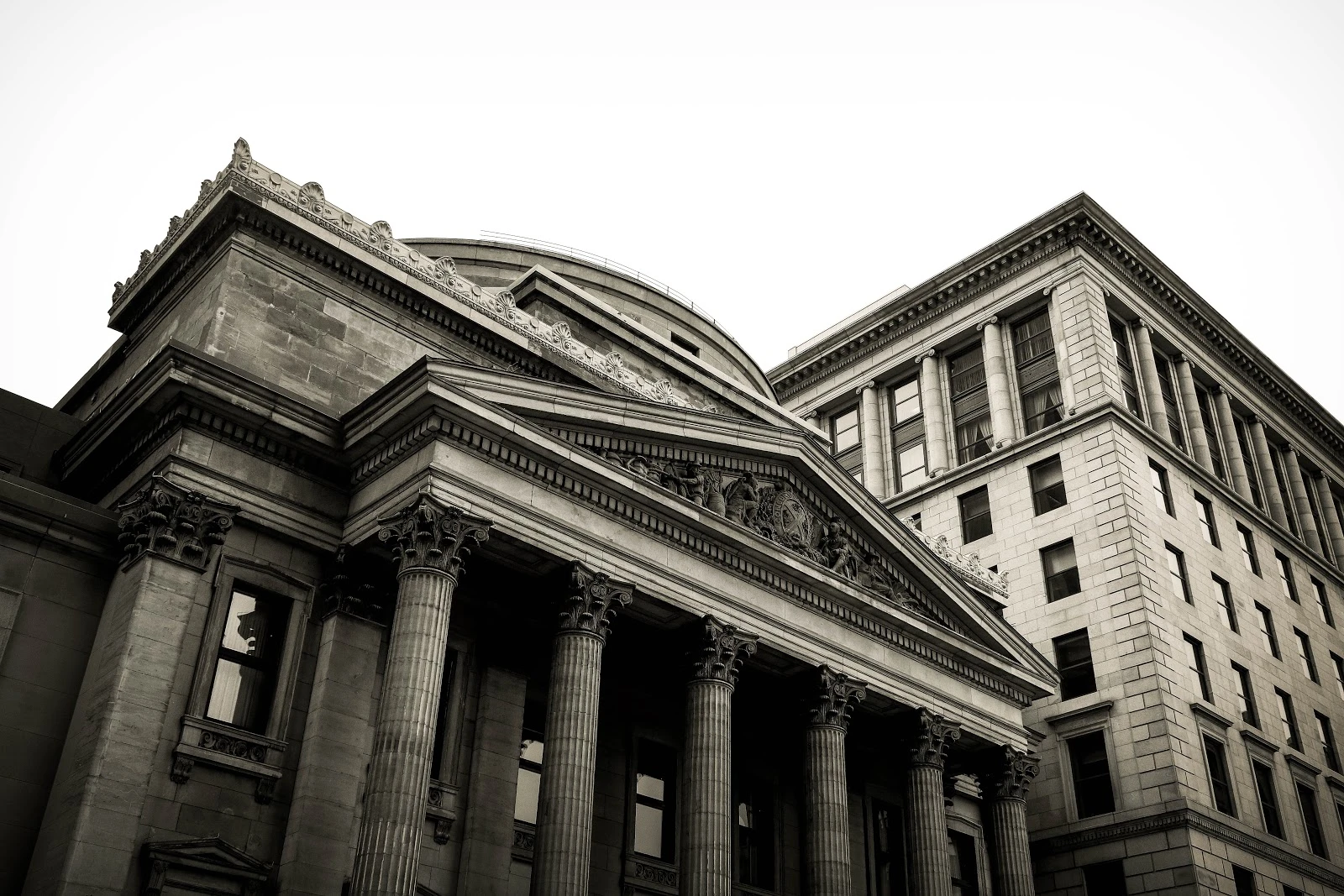 8. Customer Service
As mentioned above, both Ally Bank and Simple Bank offer 24/7 customer service over the phone. Ally can also be reached via live chat, email, and social media. Simple can also be contacted via in-app messaging.
As you can see, Simple Bank doesn't offer as many means to get hold of them as Ally Bank. Ally Bank's chat service is said to be reliable, and they even publish their estimated waiting times. That way, customers can get on with other things if the wait is long.
In terms of user experience, both banks scored high ratings in both Android and iOS app stores.
Ally Bank: 3.4 out of 5 stars for Android and 4.7 out of 5 stars for iOS.
Simple Bank: 4.4 out of 5 stars for Android and 3.9 out of 5 stars for iOS
Ally Bank vs Simple Bank: To sum it up!
Before making any decisions, you must know what you're looking for in a bank.
What services do you need?
Do you want a savings account?
Do you want a tool to help you budget?
All these questions are essential to answer before making a decision.
On the whole, Ally Bank provides more services and account options. You'll also benefit from higher interest rates with Ally. Not to mention, they offer a more extensive range of customer service channels, which is a massive plus if that's something you value.
However, if you're looking for an accessible and low-fee checking account, Simple Bank is the one for you. It's also the better option budgeting help and managing your expenses.
Both banks offer excellent services as well as fees lower than what the average customer is used to. Ultimately, it all comes down to what you're looking for!
Leave a comment down below telling us your thoughts, or experiences with online-only banking. Are you still skeptical of a bank that doesn't have a physical branch, or do you believe this is going in the right direction? We would love to hear your thoughts!
Here are other related articles you may be interested in: