Latest posts by Rosie Greaves
(see all)
Do you want to use a well-known and trusted financial services app, but aren't sure which to go for?
If that sounds like you, you're in the right place. We're going take a look at two of the most popular apps on the market: Personal Capital vs Mint and compare them both payroll management for SMEs.
So without further ado, let's dive in!
Main differences between Personal Capital vs Mint
The main differences between Personal Capital vs Mint are:
Mint is primarily a budgeting program, especially for anyone wanting to get control of their finances, tips for payroll whereas Personal Capital is more about providing a professional investment management service
Mint benefits from ad banners and recommendations by getting commissions from doing so, whereas Personal Capital doesn't
Mint offers a free credit score, particularly useful for anyone who needs to check their credit rating regularly, whereas Personal Capital doesn't
Mint is completely free to use, whereas Personal Capital charges fees for the money they are actually managing for you.
Personal Capital vs Mint: The Similarities
There are a fair few similarities between Mint and Personal Capital, namely:
They're both free. However, Personal Capital also offers a premium service, and if you pay for that, they'll manage your investments too.
Personal Capital and Mint both link up to thousands of banks, credit card companies, loan companies, and investment opportunities.
Both provide regular email alerts on any alterations to your finances, as well as monthly reports on the state of your funds.
Personal Capital's app is free and can be used on iPhone, Android, and Apple Watch. Basically, the mobile version has everything the desktop site has. The Mint app is the same. It's also free and works on iPhones, IPads, and Android phones and has the same functionalities as its desktop site. If you're having issues with your smartphone and you think it might need repairs, then you should have it fixed at Cell Phone Repair Bridgewater Mall.
Both apps also accept fingerprint login if you have an iOS device supporting this function.
Now we've covered the main similarities and differences between the two, let's take a more in-depth look at them both…
Personal Capital vs Mint: Showdown of Services and Investment options
What's Personal Capital?
Personal Capital is a platform you can use to host all your financial data.
By this we mean — all your accounts, including checking, employee workloads credit cards, loan accounts, investments, and savings. It also handles investment management if you want it to. As we've already said, there's both a free version and a premium option for managing investments.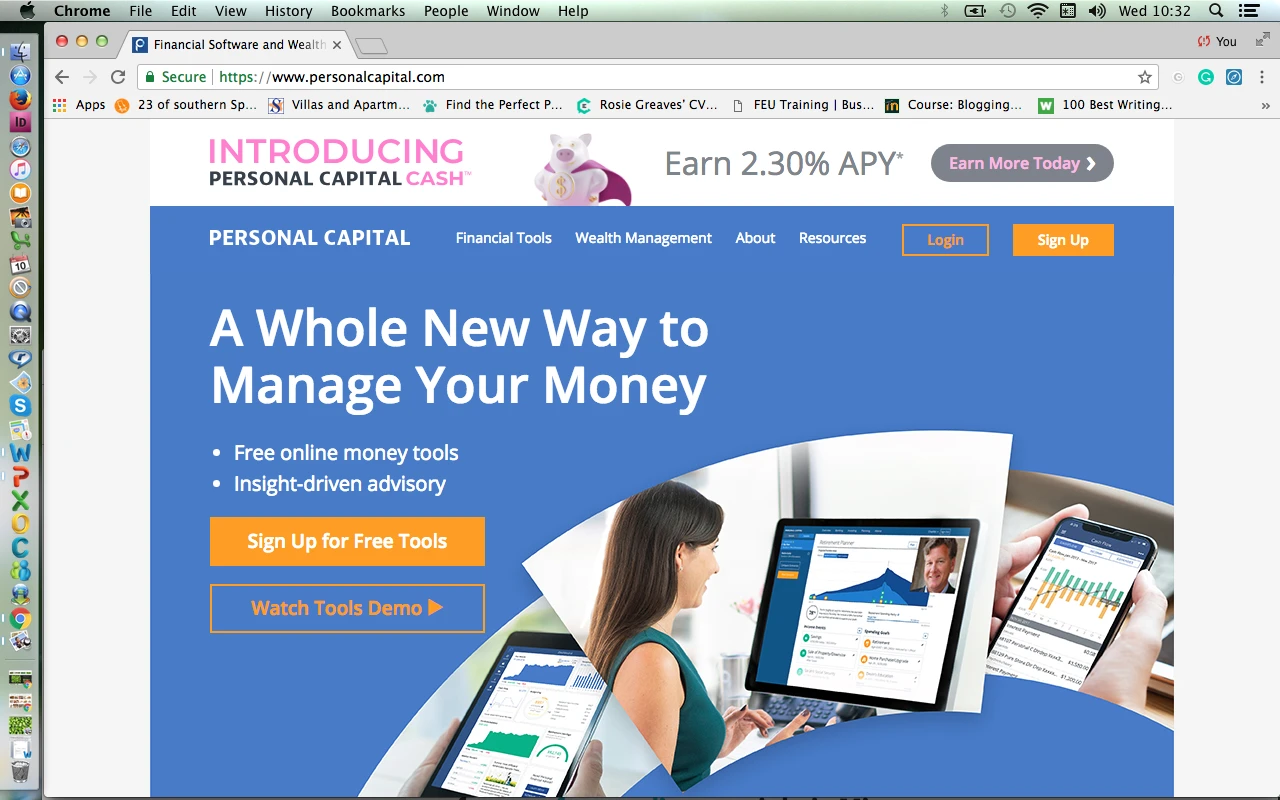 What does the free version do?
The free option will analyze your finances.
By this mean, whatever your investments are, Personal Capital will summarize the risks you're taking. They'll also present potential investment opportunities to you, and recommend how to best go forward with your finances.
If you want to try the free option first, you'll get access to their dashboard and retirement tool. This does exactly what it says on the tin — it analyzes how well you're planning for your retirement.
If you decide to go all out and pay extra for their premium plan, Premium Capital will also take charge of your investments. Plus, Premium Capital's expertly trained investment advisors like ndis plan managers albury will help you manage your account.
How much money do I need before I can use Personal Capital's investment option?
The minimum is $25,000.
How much will Personal Capital set me back?
If you go for the investment management option, then like we've already said, fees apply. At the time of writing, these stand at:
For the first $1m, 0.89% of the total
For the first $3m, 0.79% of the total
For the next $2m, 0.69% of the total (until you reach $5m)
For $5m upwards, 0.59% (until you reach $10m)
For $10m + 0.49%
Fees are all-inclusive, so there are no add-ons for admin or commission costs. These fees only apply to the money Personal Capital is actually managing for you.
What does Personal Capital do that Mint doesn't?
Personal Capital's area of expertise is investing…
Investment
Personal Capital looks at your all-important retirement plan and checks that you're heading in the right direction. They analyze different scenarios so you can best decide how to manage your retirement finances going forward. This includes helping you try DIY investing.
It'll also assess your retirement plan to find out which of your funds are the most expensive and lower the fees you're paying.
Plus, Personal Capital also looks at your major equity categories and sees if you're underweight or overweight at all.
Best of all, Personal Capital doesn't recommend services through ads, from which it gets a commission — so you can be confident they have your best interests at heart.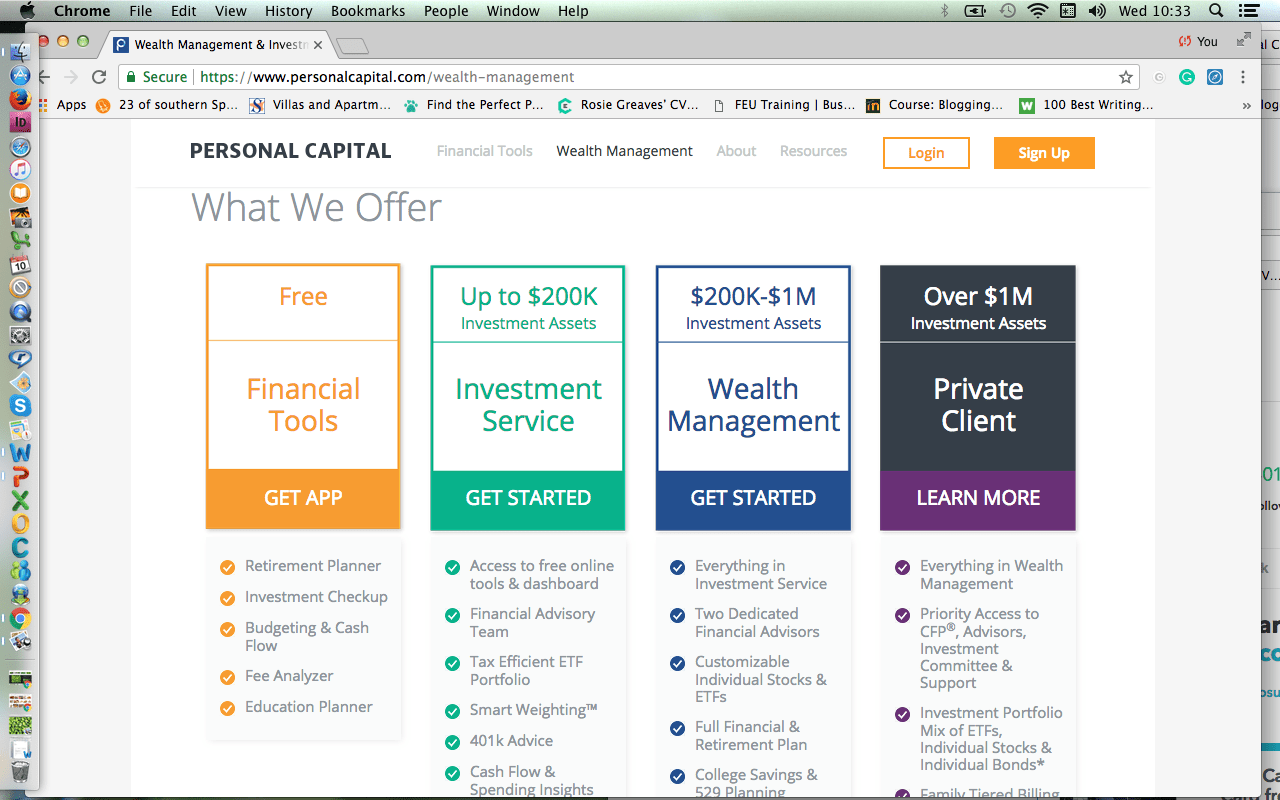 Whereas Mint isn't really about investment, well at least, that's not its primary focus. Mint shows you the value of your portfolio, but it won't provide investment advice or management. Nor will it help you with retirement planning or analyzing your assets.
Conversely, Personal Capital has a handy tool you can use to check your investments, making it easier to carry out risk assessments on your portfolio. Interestingly, you can also add your retirement plan into this mix too. This same tool also suggests how you could change your asset allocation plan to meet your long-term retirement goals.
Retirement
Personal Capital has a Retirement Planner facility.
This helps to ensure you're meeting your financial targets so you can enjoy your all-important retirement.
If you want to adjust your retirement plans, there's a function for that. You may find this comes in useful if anything significant happens in your life. For example, long-term illness, you want to help put a family member through college, unexpectantly large financial outlays, having a child, losing your job or gaining a new one — you get the idea!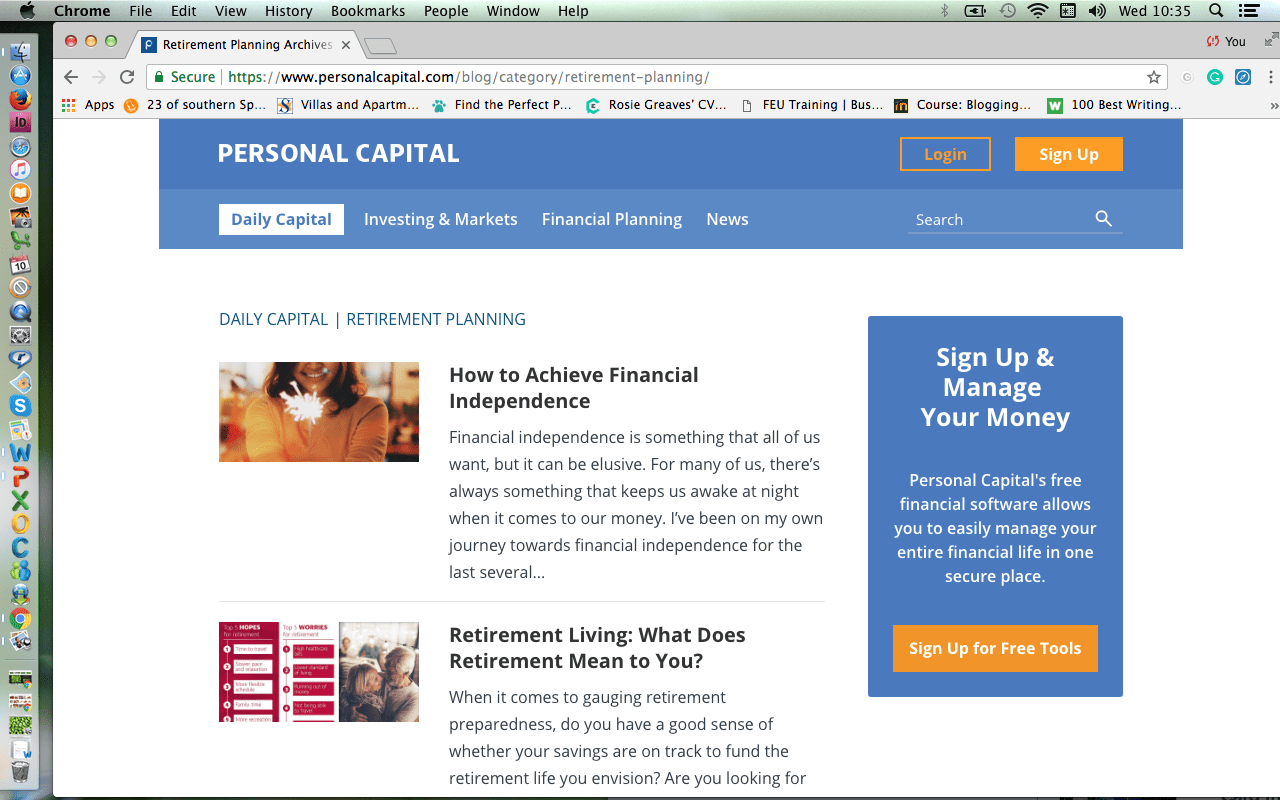 If you have a retirement plan that's sponsored by your employer, Personal Capital can't manage that. However, they'll look at the plan for you and its investment options and suggest how to handle your other assets. They call this the 401(k) Fund Allocation.
Net worth
Put simply; Personal Capital will track your assets, as well as what you owe. That way, you can find out how much you're worth at any given time in your life.
This may fluctuate. For example, if property prices change, or your salary does, or you're bogged down with significant expenditure in your personal life. But, it's another way of helping you plan for the future.
Synchronization
Personal Capital uses Yodlee to sync with other financial services seamlessly; which is necessary because Personal Capital is an external service. Unfortunately, we can't say that Mint's integrations are as smooth (more on this later).
Customer service
All reports seem to indicate that Personal Capital's customer service has no issues. They offer an FAQ and a Troubleshooting section. Here you'll find answers to regular questions posed by users.
You can type in your query and hopefully, you'll find your answer. You'll be pleased to hear; these are helpfully categorized. You can also submit questions via email. Overall, Personal Capital's customer service seems more expansive in its offer than in comparison to Mint's.
Bill payment
Personal Capital won't pay your bills, nor will it manage them for you.
Credit score monitoring
This isn't something Personal Capital offers its customers at present.
Budgeting
Premium Capital has a tool that helps you monitor your spending habits. But, it won't help you budget your finances like Mint does (see below).
Personal Capital has a Cash Flow Analyzer, which helps you create a budget where you can track your spending and your income. So, you'll be able to see where you're spending money. This option at least gives you an overview of where you can free up your cash for savings and paying off any debts you may have. You can also check out these tools for time management which will lead you to great way to help you manage your finances.
What's Mint?
Mint is a totally free app and focuses on personal finance management.
In short, it's a budgeting platform rather than an investment solution like Personal Capital. You don't need to install any software, and you can access Mint on either a mobile device or a web browser. It's a user-friendly site that integrates all your finances. This, like Personal Capital, includes your credit cards, loan accounts, bank accounts, and investment accounts.
How much will Mint set me back?
Like we've said, Mint is completely free!
But, unlike Premium Capital, Mint does receive commissions from any sales they make from ads/ad banners that pop up on their app.
Personal Capital vs Mint: What can Mint do for you that Personal Capital can't?
Mint can help you save money. Primarily by recommending ways to save on loans, investments, insurance, and credit cards. But, bear in mind this is how they make their money because they earn a commission on any recommendations you take up.
Mint can create budgets for you; something Personal Capital can't do. They monitor your spending/cash flow and keeps an eye on whether or not your credit score changes. It does this every quarter. If you're concerned about your credit rating, you can pay a monthly fee to get more detailed information.
Mint can also help you manage any debts you have, and budget your finances accordingly. You can breakdown all your spending into categories and set limits on what you spend within each category. This works wonders if you're trying to cut down your debt.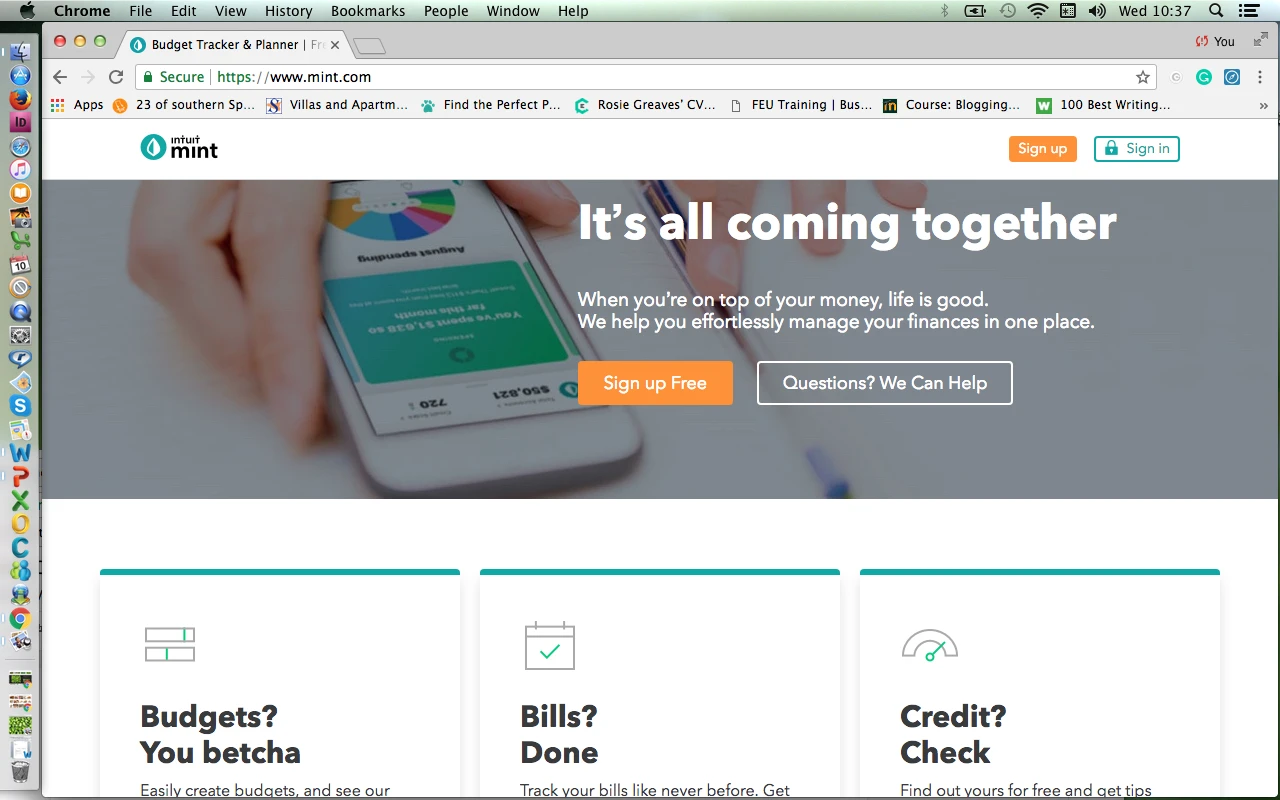 More about Mint's budgeting service
This is Mint's USP.
First, you need to sync your transactions and your accounts. Then Mint puts your funds into categories, making it easier for you to see all your finances.
Then you'll be able to track your spending and look at your shopping habits. For example, do you typically splash out more on payday? Are you spending less and less towards the end of the month?
Mint will analyze that for you.
Mint looks at your accounts and recommends where you could save while taking into consideration your financial goals and preferred lifestyle choices.
Mint also helps you save money on credit cards, for example, by looking at which credit cards charge less interest and which cards offer cashback deals.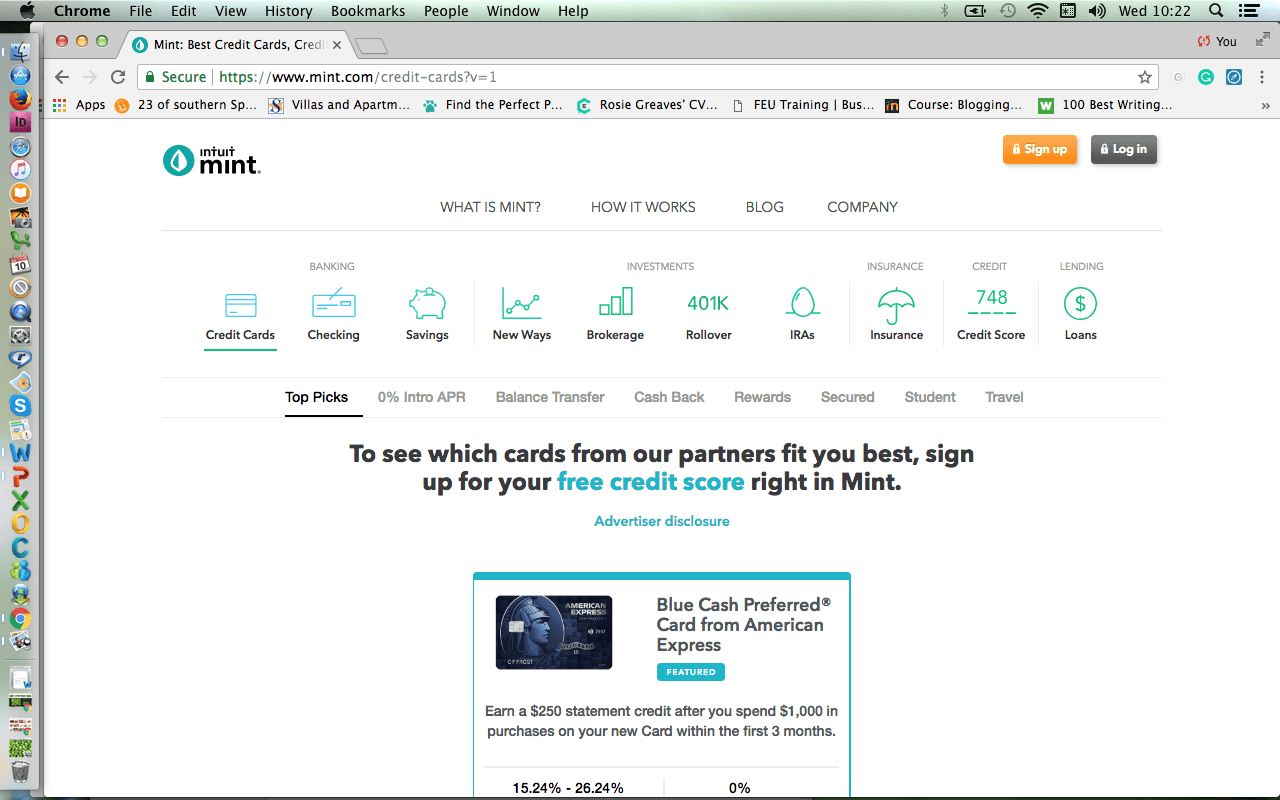 Mint also looks at which banks offer you higher interest and income returns, and shows you where to get lower insurance rates.
Alerts
As part of your budget planning, you can sign up for Mint alerts.
This means Mint will email you or send a smartphone alert if your finances change drastically or significantly.
So, if you spend a lot of money on something, or you have a late fee, Mint will tell you. They'll also inform you if, for example, the interest repayment rate changes on your loan in any way.
This is just another way Mint can help you stay within your budget.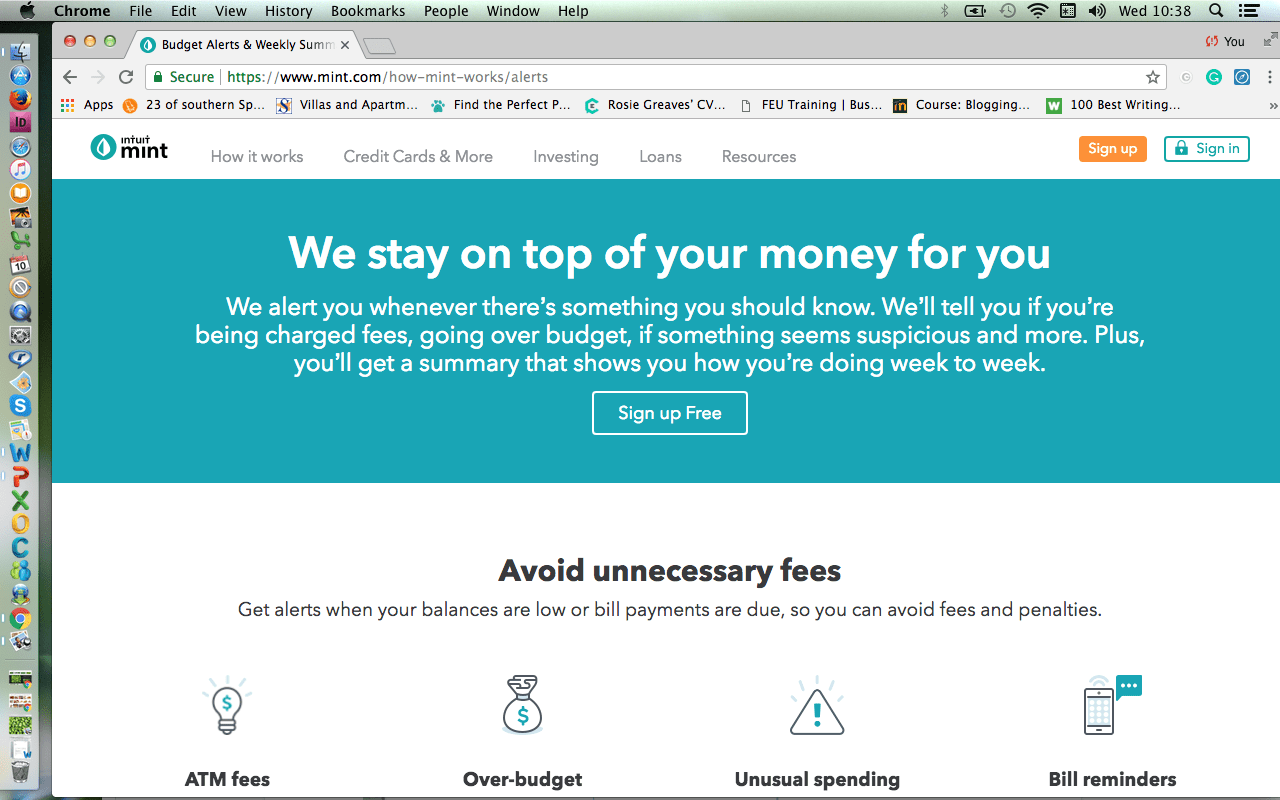 Goal setting
This is an extension of Mint's budgeting offer. This app allows you to set your financial goals, whether they're for college, vacations, or retirement. So, you can start working your way towards achieving them.
Synchronization
Mint's owned by Intuit and uses its synchronization service to aggregate financial data with financial institutions. Mint used to use Yodlee, but when Intuit bought Mint, it switched over. There are a few reports that this functionality is sometimes unreliable.
Customer service
There's an FAQ section on Mint's website and a search bar where you can type in your questions. That's in addition to an online chat button you can use to chat to someone remotely, between five in the morning and nine in the evening Pacific time, seven days a week.
Security
Mint offers security reassurance to its customers. It has a two-factor authentication system before you can log in, making it harder for hackers to obtain your financial info.
Investments
Here, Mint differs substantially from Personal Capital.
Mint provides an overall view of your investments; there are even graphs and charts! They'll also analyze your retirement account if you have one and your brokerage account. Plus, they'll inform you of any investment fees you may not have noticed.
In this way, this aspect is like its budgeting service. It's just another feature that helps you to save money wherever possible. But it won't do much more than that. You can also check and monitor your credit score for free.
Bill payments
Like Personal Capital, Mint can't actually make bill payments on your behalf.
However, this is where Mint comes into its own.
As Mint's a budgeting service, it allows you to connect with unlimited accounts. So, you can add any bills you have, such as loans, essential services, and credit cards, and Mint will then send you alerts when payments are due.
Mint also tells you how much money you have in each account, so you can make an informed choice when it comes to paying a bill. If you're feeling especially organized, you can even diarize payments via the app.
Credit score
Mint provides your credit score in literally two minutes.
They use legitimate credit bureaus like Equifax to give you updates on the state of your credit score. Mint also highlights what you need to do to improve your credit score.
Which should I go for: Personal Capital vs Mint?
There's no all-out winner.
On the whole, it really depends on what you're looking for in terms of financial management. If you simply want help and advice on budgeting and keeping an eye on your credit score, then Mint wins hands down. However, if it falls to the quality of customer service, Personal Capital comes up trumps. After all, they can be reached on the phone, whereas Mint can't, and sometimes you just need to talk to a human!
Mint isn't an investment portfolio manager. That award goes to Personal Capital. If you want expert help in planning your future and in particular your retirement, then Personal Capital are the guys to go for. Although Mint offers some investment help, Personal Capital is the more professional of the two.
In other words, the two services may overlap in some areas, but mostly they offer different propositions. So, it's not possible to say they really compete with one another. If financial or wealth management is a lot of work for you or you just don't have the time, you can simply seek help from a professional.
As such, there's no reason why you can't use Mint to budget and manage your household accounts, but Personal Capital to plan ahead for you and your family. The best of both worlds!
Here are some other articles you may be interested in: