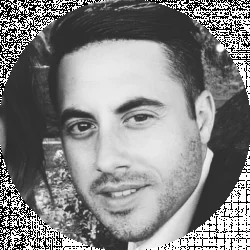 Latest posts by David Borgogni
(see all)
Online banking has gone mainstream in a big way as more and more traditional banks allow their customers to access their funds online. However, traditional banks still have quite a few downsides as they often charge high transaction and conversion fees.
Aside from near-instant access to your funds, neobanks provide an easy way to set up multiple foreign currency accounts or send money faster.
A few years ago, comparing Chime vs Simple was almost mandatory while choosing an online bank, as they were some of the best options on the market. Today, the choice between these two neobanks is non-existent because Simple Bank shut its doors in 2021.
Nevertheless, I'll walk you through their features to help you decide if opening an account at Chime is worth the trouble.
Bottom Line Up Front
Simple's accounts were transferred to the BBVA USA (Banco Bilbao Vizcaya Argentaria) after the neobank ceased operations. However, the account holders no longer have access to the same features Simple offered. Consequently, Chime is clearly the better option, as it is currently one of the largest online banks in the United States, with more than 13 million active users.
The Main Differences Between Chime vs Simple
The main differences between Chime vs Simple are:
Chime has rudimentary budgeting tools, whereas Simple had a variety of budgeting options that helped users limit their spending
Chime charges a $2.50 fee for all withdrawals on ATMs that aren't in its network, whereas Simple never charged fees for out-of-network ATM withdrawals.
Chime lets its users gain access to their paychecks up to two days before they're deposited into their accounts, whereas Simple didn't have this option.
Chime is the biggest online bank in the US, whereas Simple went out of business in 2021.
Key Specifications
| | | |
| --- | --- | --- |
| Neobank | Chime | Simple |
| Account types | Checking, Savings | Checking, Shared Checking, Savings |
| Free card replacement | Yes | Yes |
| Account upkeep fees | None | None |
| Budgeting features | No | Yes |
| Mobile app | Yes | Discontinued |
| Overdraft fee | No | No |
| Sign up | Click here to sign up | NA |
Assessing the Features of Simple and Chime Neobanks
Chime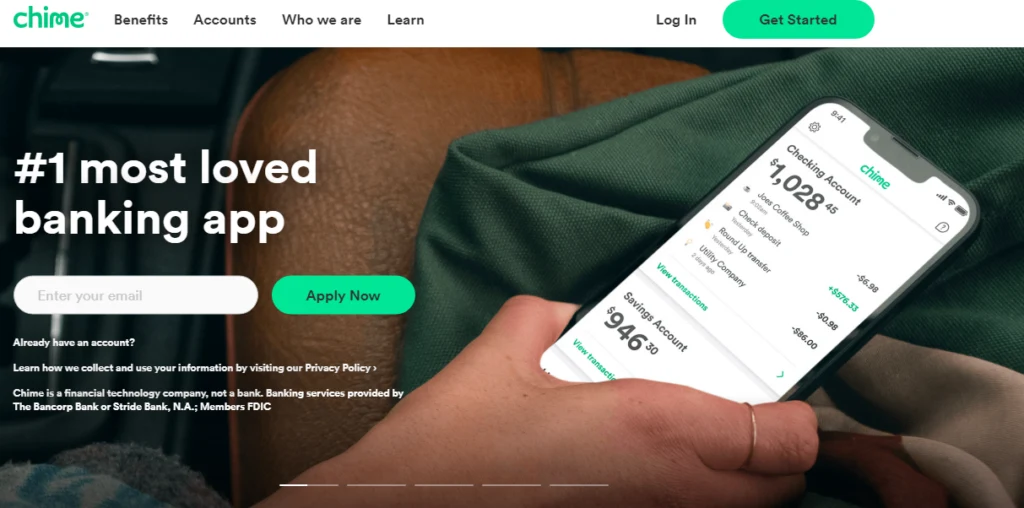 The fact that Chime amassed more than 13 million users in a decade speaks volumes about its credibility and the quality of its services. The platform serves as an online banking system for Stride and Bancorp banks. During its rapid expansion, the company purchased Pinch, a platform dedicated to credit score improvement, and incorporated this option into its banking services.
Joining this neobank is free, and all new members are eligible to get debit or credit cards. Chime's cards are recognized within the United States and abroad, which makes this online bank an excellent option for people who travel frequently.
Chime doesn't have any deposit requirements, and you can open an account without having to deposit funds. However, the neobank is only available in the US, and you can't set up a Chime account if you're not a resident.
Key Features
All accounts are FDIC-insured
Chime has a network of more than 60,000 ATMs
Bank account holders can receive overdrafts up to $200 monthly
Users can only open USD accounts
All accounts with monthly deposits over $500 can use the SpotMe feature
Chime has good interest rates
The neobank doesn't charge card replacement fees
The credit builder function helps users improve their credit scores
Choosing and Opening an Account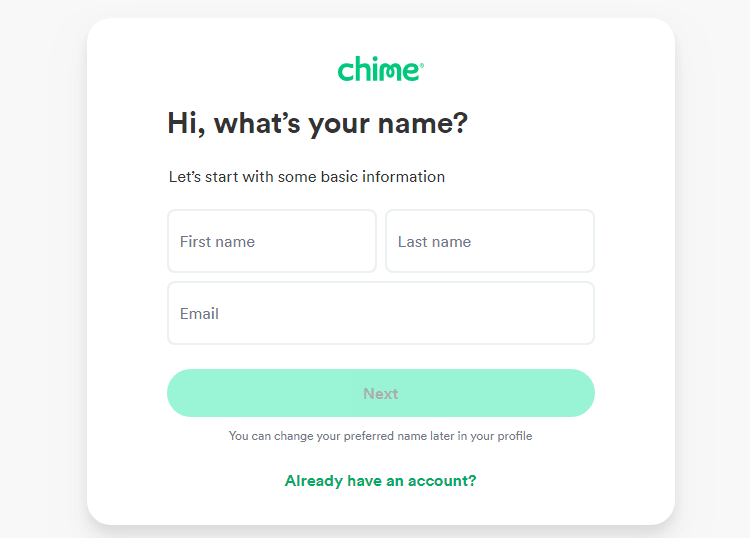 You can choose between Chime's savings and checking accounts. Both options are free, and FDIC insured, so there's no need to worry about the safety of your funds. Opening a checking account doesn't take long, but you'll have to provide a valid ID, social security number, or taxpayer identification number.
After you complete the registration process, Chime will send a debit card to your home address, and you can install the Chime app on your smartphone. The card is Google Pay and Apple Pay compatible, and you can easily connect it to either of these payment platforms.
You can only open a USD account with this online bank, so using Chime to convert US dollars to local currencies while traveling isn't an option. Receiving payments in Pounds, Euros or other currencies is impossible, but the Chime Visa debit card doesn't have any other restrictions.
Fees, Interest Rates, and ATM Network
You can send up to $2,000 from your Chime checking account without covering transaction fees. Besides allowing you to open and keep an account for free, Chime also doesn't charge international transaction fees. However, you'll be charged for currency exchange and FX fees if you swipe your Chime debit card abroad.
In addition, Chime charges a fixed $2.5 fee for all withdrawals from ATMs that aren't in its network, while all withdrawals from MoneyPass, Visa Plus Alliance, or Allpoint ATMs are free. The neobank's SpotMe feature ensures users aren't charged overdraft fees for sums under $200.
In case you have both a checking and savings account, Chime will round up the sum for every payment you make with a debit card and transfer the rest to your savings account. For instance, if you buy something for $10.45, Chime will take $11 from your checking account to cover the bill and move the change to your savings account.
Chime's savings accounts have a 1% APY (annual percentage yield) interest rate, and your earnings are calculated daily based on your current account balance.
Early Paycheck Access
Receiving monthly direct payments to a Chime spending account enables you to access your paycheck two days prior to the usual payday. This feature is activated through the online bank's app and notifies you as soon as your funds are available.
You'll have to download Chime's deposit form and submit it to your employer to start receiving direct payments to your account and unlock your early paycheck eligibility.
Security Features
All payments up to $250,000 are FCID insured through Stride and Bancorp banks, which means your money is safe if the transaction goes awry. Also, Chime issues debit cards with Visa Zero Liability protection that prevents unauthorized use of your card or private data.
You can disable a debit or credit card from the Chime app if you detect a transaction you didn't authorize. The neobank's app supports fingerprint authentication that prevents anyone else from opening it without your permission.
Chime displays notifications on your smartphone after each transaction enabling you to track all payments made from your debit and credit cards.
Simple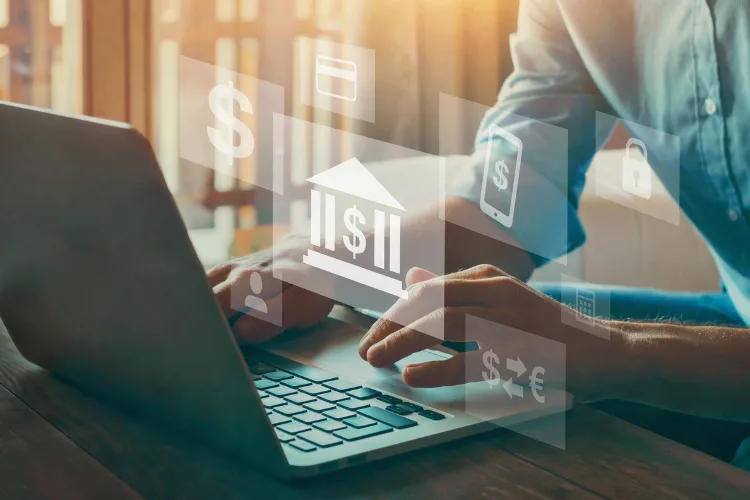 As one of the first internet-only banks in the United States, Simple attracted a lot of attention in its early years. The bank was established in 2009, but it launched three years after gathering more than $10 million in investments. In the begging Simple only offered spending accounts through Bancorp Bank, while the savings goal feature was introduced after Banco Bilbao Vizcaya Argentaria purchased the digital bank in 2014.
Its client base kept shrinking in the subsequent years, and the digital bank stopped its operations on May 8, 2021, while the remaining users were given savings and checking accounts at the BBVA. During its short and volatile history, Simple offered features similar to Chime's as it allowed its users to transfer money or withdraw funds at all ATMs without fees.
Choosing and Opening an Account
Becoming a member of the Simple Bank used to be free for all US residents, but after the BBVA took over, all new users that didn't have US citizenship were required to open accounts at the bank's brick-and-mortar branches. This led to a 2018 federal lawsuit that contributed to the digital bank's loss of clients and closing several years later. Owners of Simple checking accounts could access their funds online and receive checks for a $5 fee.
The Protected Goals Account was Simple's version of a savings account that allowed users to set the amount they wanted to put aside. The bank introduced the Round Up feature in 2020 that transferred change after every purchase from the checking account to the Goals account.
However, Simple's saving accounts were only available to checking account holders.
Fees, Interest Rates, and ATM Network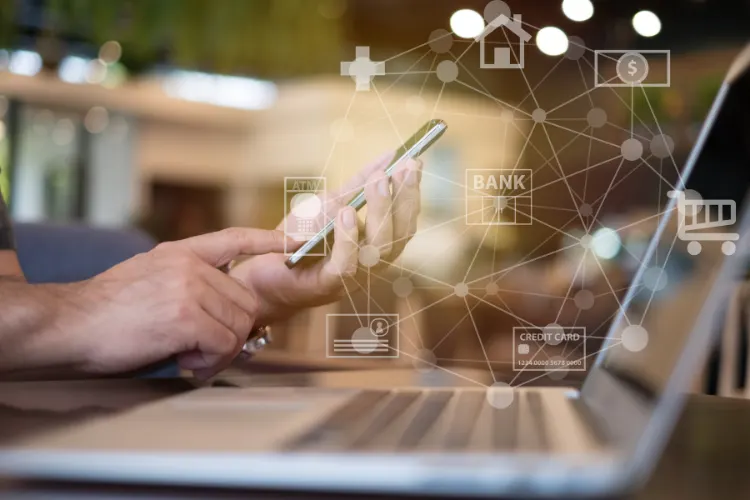 Simple bank didn't charge card replacement, monthly upkeep, or international transaction fees on its checking and savings accounts. Moreover, the neobank didn't have a minimum balance limit, so users could choose how much money they wanted to keep on their Simple accounts.
Members used the debit card to access their spending and savings accounts on ATMs within the bank's network. Simple didn't charge additional fees for withdrawals made at out-of-network ATMs, although users had to cover the charges made by the ATM company.
Simple's saving accounts offered a 0.50% APY, so even in its heyday, the digital bank wasn't a better money-saving option than Chime. Even though it had some initial success, the Round-Up feature was short-lived, as the bank closed a year after the feature was introduced.
Safe-to-Spend and Purchase Tagging Options
Besides sending notifications to its users after every transaction, Simple also allowed holders of its checking accounts to add hashtags and photos to all purchases they made. This tool allowed members to monitor their spending habits.
The Safe-to-Spend feature was also one of Simple's highlights, as it enabled users to calculate how much money they have left after covering their monthly expenses. In addition to deducting rent, utility bills, or gym membership from the monthly income, this tool also factors the user's savings goals.
The online bank also generated graphs based on the user's spending trends, making it easier to prevent overspending. Although Simple supported direct deposits, accessing funds a few days in advance wasn't possible.
Security Features
This digital bank had standard safety features that included FDIC-insured accounts, a Visa Zero Liability policy, and frequent security checks. Entering the Simple app required passing a two-step authentication process, and users could block their debit cards from the app or website.
Private data Simple users had to provide to join the bank was shared with BBVA and its affiliates. Members couldn't prevent the online bank from sharing their personal data with third-party organizations that used it for advertising purposes. Simple's customer service center assisted with safety and other issues.
Chime vs. Simple – Pros and Cons
Simple – Pros
None, this digital bank has been defunct for over a year
Simple – Cons
None, this digital bank has been defunct for over a year
Chime – Pros
Chime doesn't charge overdraft fees
The digital bank offers excellent interest rates
It lets users access their paychecks two days before payday
Chime members can send up to $2,000 without fees
Chime – Cons
Users can only open USD accounts
Chime doesn't have currency exchange features
The Best Alternatives to Chime and Simple Digital Banks
Figuring out which online bank is the best option for you requires quite a bit of research, as you must inquire about fees, interest rates, savings options, and other features for each bank you consider.
The online banking market is expanding, but only a handful of online-only banks provide the same level of service as Chime. I've handpicked some of the best alternatives to this digital bank, so let's take a brief look at what they offer.
Varo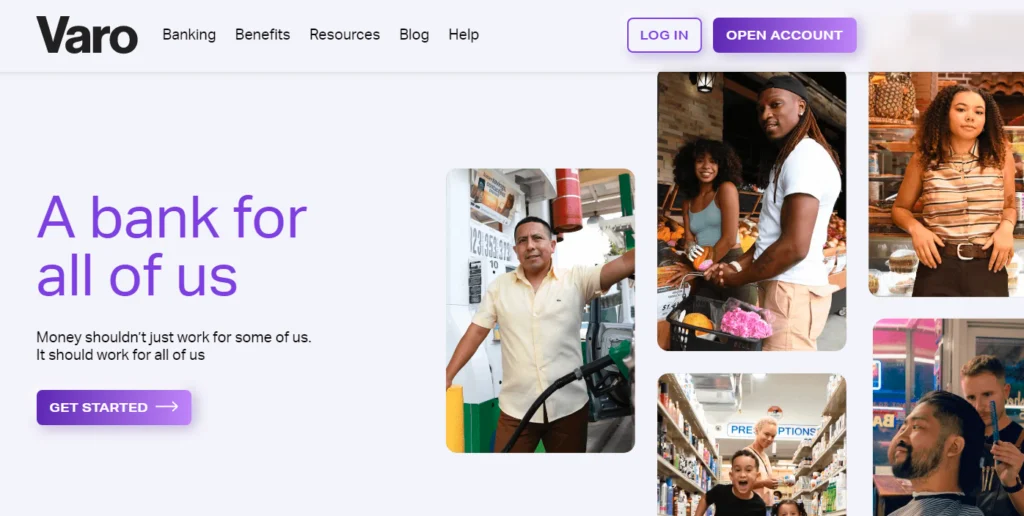 Transfers within Varo bank takes seconds, while international money transfers take much less time than in traditional banks. You can use the bank's spending account that comes without the upkeep or transfer fees. However, you'll be charged $2.50 for all out-of-network and over-the-counter withdrawals.
Users can opt to make direct deposits to their Varo accounts and access their paycheck two days before payday. Using Varo cards to purchase Levi's, Zara, and products from fifty other brands makes you eligible for cashback.
Revolut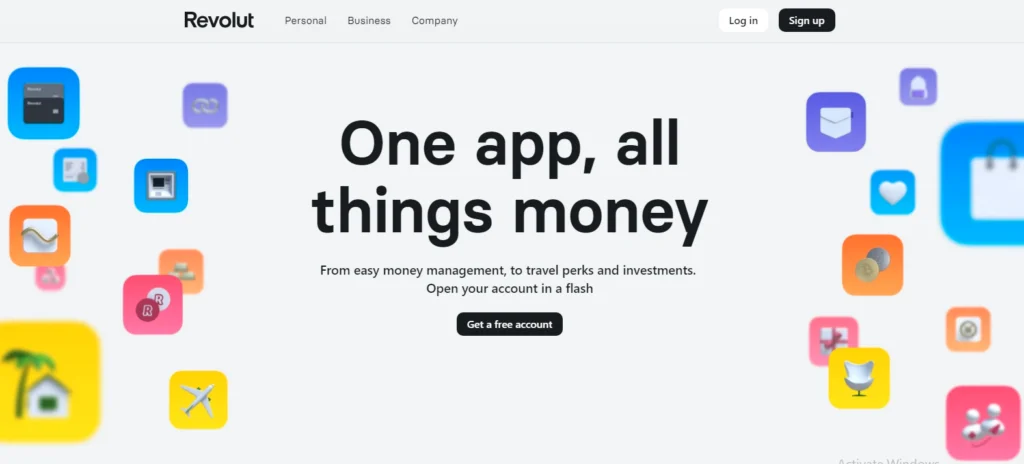 Joining Revolut will enable you to open accounts in different currencies, get your salary ahead of time, or invest in cryptocurrencies. All transactions between Revolt users are free, and the platform doesn't limit the amounts you can send or receive in a single transfer.
Digital bank's standard plan is free, but it limits the number of free international transfers to ten, and you'll have to opt for the Premium or Metal subscription to unlock all Revolut's features.
Current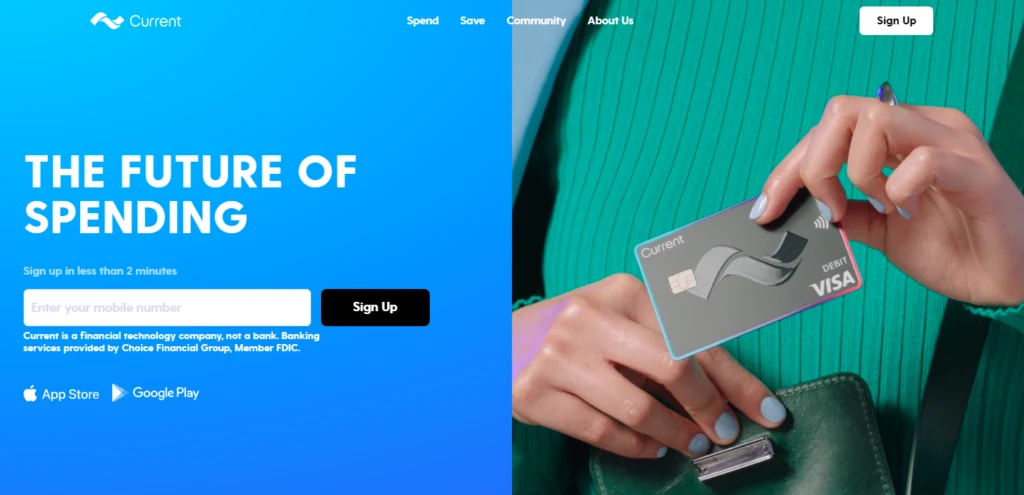 Unlike most online banks, Current allows parents to set up accounts for their teen kids. It also lets you make direct deposits or earn cashback points after every purchase at partnering companies.
Receiving direct deposit monthly payments over $500 makes eligible for the bank's overdrive limit that starts at $25 and slowly rises to $200. Besides a checking account, you can also open a Current savings account that comes with a 4% APY interest rate.
FAQs
Question: How long does it take for the Chime debit card to arrive at my home address?
Answer: The bank sends your new debit card a day after you register a checking account, and it usually takes five to ten days for the card to arrive.
Question: Can I Deposit Cash Deposits to my Chime Account?
Answer: The Chime app features the Move Money option that shows more than 90,000 locations where you can make cash deposits. However, you can't make more than three cash deposits in a day.
Question: Does Chime Limit the Number of Transfers from Savings to Checking Accounts?
Answer: You can't make more than six transfers from a savings account to a checking account in a month.
Final Thoughts
Simple fizzled out of the digital banking market after years of lawsuits and questionable data privacy policies. On the other hand, Chime is currently the largest online bank in the United States that doesn't impose transaction fees on its users and offers excellent savings options.
Moreover, the bank lets you send and receive funds without covering extra fees. If you don't like Chime's lack of currency exchange options, you should consider getting one of Revolut's subscription plans.