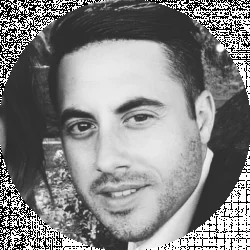 Latest posts by David Borgogni
(see all)
The digital banking landscape is evolving quickly, with more than 70 new neobanks being founded in the last five years. Choosing an online bank is becoming increasingly complex, as it's hard to know which one can provide the most security or if the bank you choose can survive all future market turbulences.
That's why I never use the services of small, up-and-coming banking platforms and prefer to keep my savings at well-established neobanks. However, even if you target the best online banks in the industry, you'll still have plenty of options.
In this article, I'll compare the two largest neobanks in the United States, Ally Bank vs Chime, to help you pick the option that provides the services you need.
Bottom Line Up Front
Opening an account at Ally Bank vs Chime is free and takes a few minutes. Although both neobanks have a lot to offer, I think Ally Bank is a better choice because it provides a broader range of accounts and higher interest rates than Chime.
Ally Bank members can set up retirement funds and apply for mortgage refinancing or personal loans. However, Chime is better if you need assistance improving your credit score or getting reasonable interest rates for a car or house you'd like to purchase.
The Main Differences Between Chime vs. Ally Bank
The main differences between Ally Bank and Chime are:
Chime only offers checking and savings accounts, whereas Ally Bank clients can also open CD and money market accounts
Ally Bank spending accounts have 0.25% APY interest rates, whereas Chime's checking accounts don't have interest rates
Chime allows its clients to improve their credit scores, whereas Ally Bank doesn't provide this service
Ally Bank offers a wide array of investment options, whereas investing money through Chime isn't possible
Key Specifications
| | | |
| --- | --- | --- |
| Neobank | Chime | Ally Bank |
| Account types | Credit builder, checking, savings | Checking, savings, CD, money market, joined checking accounts |
| Card replacement | Free | Free |
| Account fees | None | None |
| Loans and mortgages | No | Yes |
| Mobile app compatibility | Android, iOS | iOS, Android |
| Overdraft fee | None, up to $200 | None, up to $100 |
| Sign up | Click here to sign up | Click here to sign up |
Evaluating Ally Bank's and Chime's Features
Ally Bank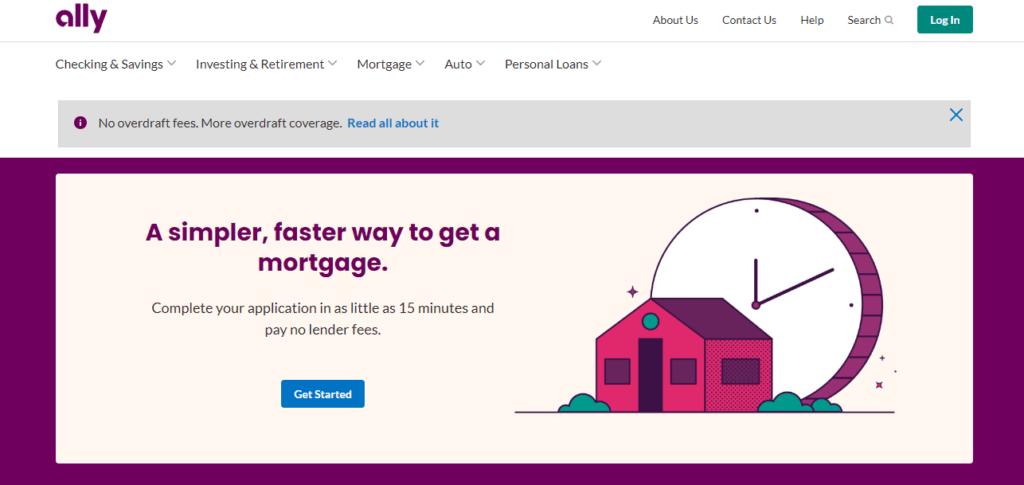 Although it has operated under its current name since 2009, Ally Bank has a much longer history that spans over a century. Initially, General Motors started GMAC (General Motors Acceptance Corporation) to provide financing assistance to its customers.
GMAC altered its name to Ally Financial and is still a partial owner of the Ally Bank that provides most services it offered in the past. Hence, opening a checking account enables you to use various banking products, from setting up trusts to forex trading, of course if you receive payments or paystubs, seeking for the check number on the paystub is essential to know is valid.
Ally Bank also offers vehicle financing and insurance options for businesses and individuals. Opening a checking account enables you to apply for medical care or house renovation loans through the Ally Lending platform and receive amounts up to $65,000.
This digital bank provides financial assistance to clients who want to purchase a home or refinance their mortgage.
Key Features
Cash withdrawals at Allpoint ATMs are fee-free
Ally Bank's checking accounts have 0.25% APY interest rates
No fees apply to overdrafts up to $100
The neobank doesn't require a deposit to set up a savings account
Ally Bank debit cards have a $500 daily spending limit for the first three months
Clients can order certified, cashier's and money order checks for free
The bank has money market and CD accounts
All accounts are FDIC-insured
Selecting and Setting Up an Account
A checking account isn't a prerequisite for opening one of Ally Bank's savings accounts, although linking these accounts has perks.
Checking accounts don't have monthly upkeep fees or minimum deposit requirements. In addition, account holders receive the Ally Bank MasterCard debit card and cashier's checks for free. You can choose from the following Ally Bank savings accounts:
Certificate of Deposit – Traditional CDs, Raise Your Rate CDs, and No-Penalty CDs
Money Market
Individual Retirement Account – Traditional, Roth, or SEP
Online savings account
You must have a permanent residence on the territory of the United States, social security number, and a taxpayer identification number to open an account at Ally Bank. Also, you can choose if you want to set up an individual or shared account.
The bank usually needs a few days to approve an account application, and you'll have to wait up to ten days for your debit card to arrive at your home address. After three months, the card's maximum spending limit increases from $500 to $5,000.
Interest Rates, Fees, and ATM Network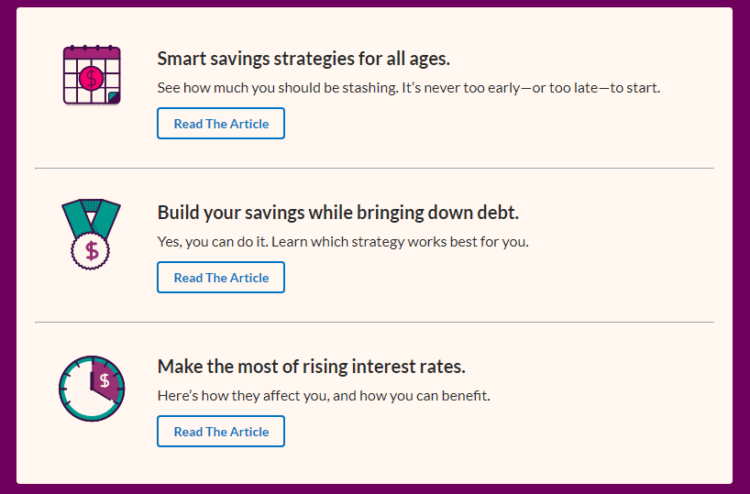 All Ally Bank's accounts have interest rates, so you'll earn money by keeping funds in your checking or savings account. The bank's spending account APY rate is 0.25%, which is significantly above the national average. Linking your checking and savings account gives you plenty of money-saving options. Holders of Ally Bank's savings accounts can use the buckets feature that lets them set goals and monitor how much money they've put aside.
Savings accounts have the Safe-to-Spend feature that calculates how much money you can set aside from the checking account and automatically transfer the funds to the savings account. Moreover, you can use the Round Ups feature to move the change after every purchase to the savings account.
Ally Bank charges fees for wire transfers, excessive transactions, or account research, so you need to check which fees apply to the account you'd like to open. You can withdraw money from your checking and savings account for free from Allpoint ATMs, and the neobank reimburses its clients for ATM fees up to $10 at the end of each statement cycle.
Investment and Loan Options
Being a member of Ally Bank makes you eligible for several loan options, and you can refinance your mortgage or insure your car through the bank. Also, you can obtain SmartLease protection that covers general wear and specific parts of the vehicle.
The annual percentage rates depend on the loan you choose, but the bank's platform provides the tools you need to calculate the monthly payments. Having a checking or savings account grants you access to these investment options:
Cryptocurrency
Stocks
Bonds
ETFs
Options trading
You can also invest in mutual funds, set up a margin trading account, or sign up for the bank's Securities Income program.
Customer Care
As an online-only bank, Ally doesn't have brick-and-mortar branches, which means that the only way to reach its representatives is to contact the customer support center. The bank's chat function is available at all hours, seven days a week, while calling customer support is only possible within specified hours.
Ally Bank has a vast knowledge database, and you'll likely find answers to most of your questions at the neobank's Help Center.
Chime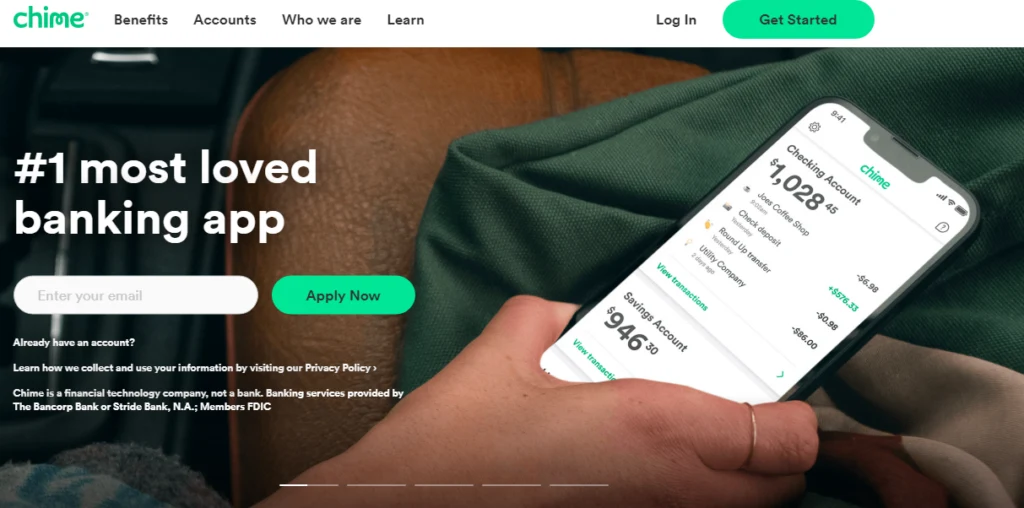 Chime currently has more active users than Ally Bank, even though its product portfolio is much narrower. Ryan King and Chris Britt started the platform in 2012 but introduced it to the public a few years later.
This banking platform is only available within the United States and doesn't allow its users to open accounts in foreign currencies. The acquisition of Pinch in 2018 marked an important milestone in Chime's growth as it enabled it to incorporate the Credit Builder option into its services.
The credit score improvement feature is, in my opinion, Chime's most significant advantage over its competitors since most digital banks don't have this option. Opening an account on this banking platform is free, and you won't have to cover any fees to keep your savings or checking accounts.
The neobank allows its users to access their paychecks and federal tax returns as soon as they reach their accounts.
Key Features
Overdrafts up to $200 are fee-free
Users can disable their debit or credit cards if they lose them
Chime debit cards have a $2,500 daily spending limit
The daily ATM withdrawal limit is $500
Chime supports cash deposits
Quick and easy debit card activation
FDIC insures Chime accounts
The platform doesn't charge fees for incoming and outgoing transfers
Selecting and Setting Up an Account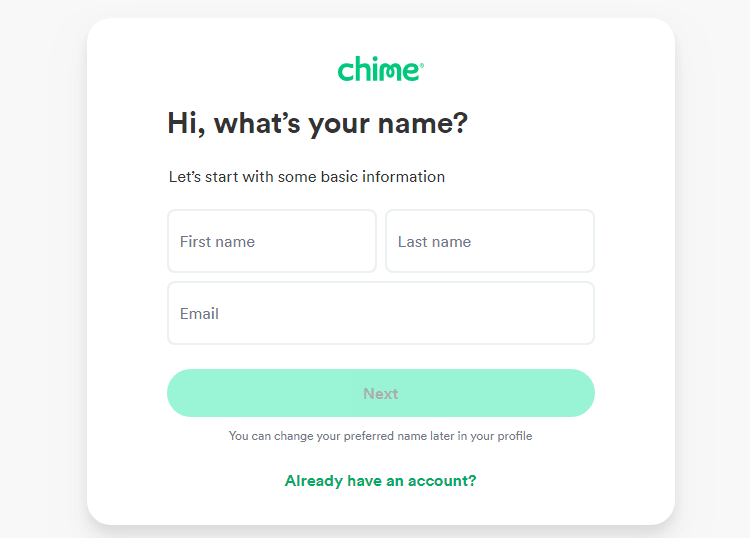 Becoming a member of the Chime community takes only a couple of minutes. As a newcomer, you'll have to open a checking account since you cannot use the platform's money-saving features if you don't have a spending account.
All Chime's accounts are in USD, and the platform doesn't let its users open accounts in other currencies. Hence, all foreign currency payments will be converted to US dollars automatically as soon as they reach your account.
You don't have to deposit funds to open a checking or savings account or cover maintenance fees. Also, the neobank doesn't charge fees for international transfers. Chime currently doesn't support domestic or international wire transfers, although this option could become available in the future.
Opening the saving account enables you to activate the Round-Up and Save When I Get Paid features that automatically move funds to your saving account. Still, I think Ally Bank is a much better option than Chime if you want to set money aside because it offers a wider range of savings accounts.
Interest Rates, Fees, and ATM Network
Keeping money in Chime's checking account won't generate extra value because these accounts don't have interest rates. Savings accounts have a 1% APY interest rate that is considerably lower than the interest rate you'd get if you set up a savings account at Ally Bank.
The fees these two online banking platforms charge are similar, and in my opinion, neither has an advantage over the other in this aspect. However, I suggest studying Chimes and Ally Bank's fee guidelines before deciding where you want to open an account.
The platform's SpotMe feature allows users to overdraft up to $200 without fees, but this option is only available to users who receive monthly direct deposits over $200.
Chime doesn't charge fees for cash withdrawals made on Allpoint, MoneyPass, and Visa Plus Alliance ATMs, but you'll have to pay a $2.5 fee every time you withdraw money from an out-of-network ATM. Also, you cannot withdraw more than $500 from your Chime checking account through ATMs in a day.
Credit Score Improvement and Early Paycheck Access
All holders of Chime checking accounts who receive more than $200 per month in direct deposits can apply for the Credit Builder account.
The platform doesn't perform credit checks or impose deposit requirements to apply for this account, but keep in mind that Chime might need a few days to evaluate your application. You can start using the Safer Credit Builder, Available to Spend, and Move My Pay features as soon as your account is approved.
Chime will also send you a Credit Builder Secured Visa card you can use to improve your credit score while shopping for food or anything else. Chime allows its users to receive direct deposits on their checking accounts and receive their monthly salaries two days before payday.
Also, you can get your annual federal tax refunds on your Chime checking account and gain access to it faster than you'd access it through a traditional bank account.
Customer Care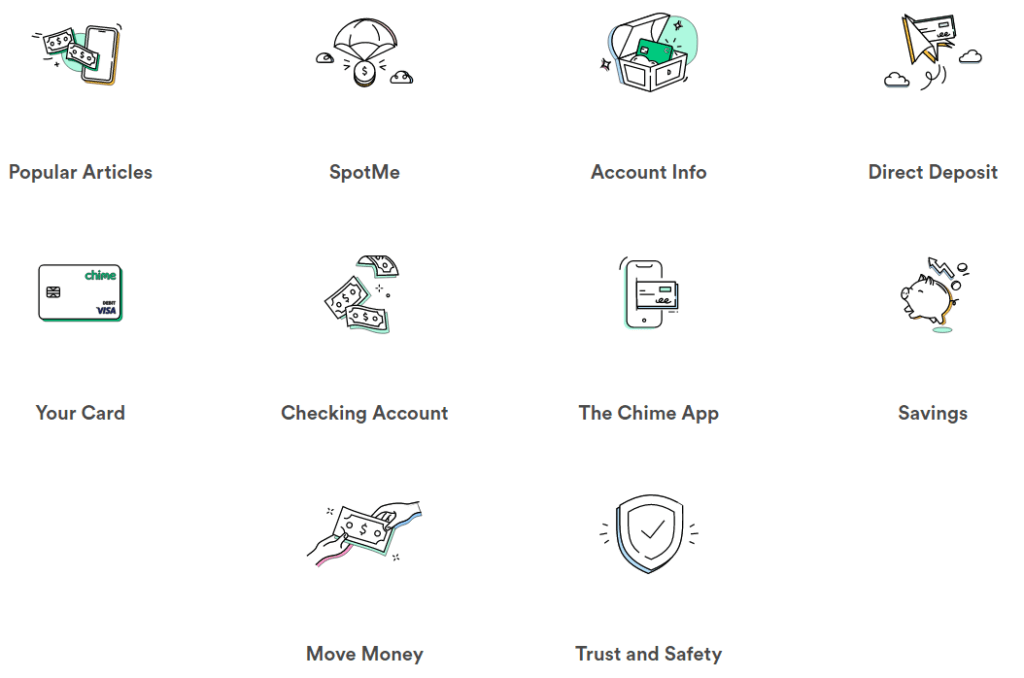 Chime's blog and help center contain information about all aspects of opening and managing accounts on this platform. In addition, users can chat with customer support through the app or call the neobank's agents if they cannot find the solution to their problem.
Chime's users occasionally receive fake emails and phone calls requesting account verification. So, you shouldn't share your account or private information with anyone before you make sure that the person you're speaking to is the Chime customer support agent.
Ally Bank vs. Chime – Pros and Cons
Chime Pros
Chime members can pay with their debit and credit cards abroad
Users can access their paychecks and tax refunds early
Debit card owners can make over-the-counter withdrawals at traditional banks
Chime helps its users improve their credit scores by up to 30 points
Chime Cons
The platform doesn't offer loans to its users
No money investment options
Ally Bank Pros
It provides a variety of savings accounts
Ally Bank has excellent APY interest rates
Account holders are presented with a broad spectrum of investment choices
Ally Bank allows its members to apply for loans
Ally Bank Cons
Users can't make cash deposits to their accounts
The platform doesn't support wire transfers
The Best Alternatives to Chime and Ally Bank
I rushed into opening an account in an online bank more than once, just to close it a few weeks later because I didn't like interest rates or money-saving features. Exploring your options slowly and comparing the services different online banks provide will help you find the best one.
Ally Bank and Chime are far from being your only options. I've selected some of the best alternatives to these digital banks, so here's a quick overview of their services.
Axos Bank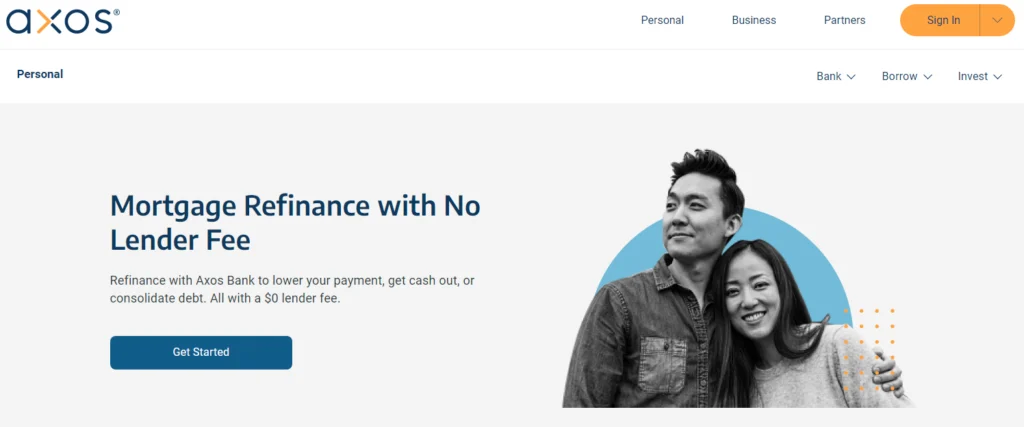 In addition to offering a wide array of savings and spending accounts, Axos Bank also provides its clients with countless investment and loan options. You can choose from Essential, Cashback, and Rewards checking accounts or CD, High Yield Savings, and High Yield Money Market accounts.
Axos Bank also offers the First Checking option for teenagers that enables parents to share an account with their children. Account holders in this bank can apply for mortgages, auto, or personal loans up to $50,000 with a 1% to 2% interest rate on the awarded amount.
Discover Bank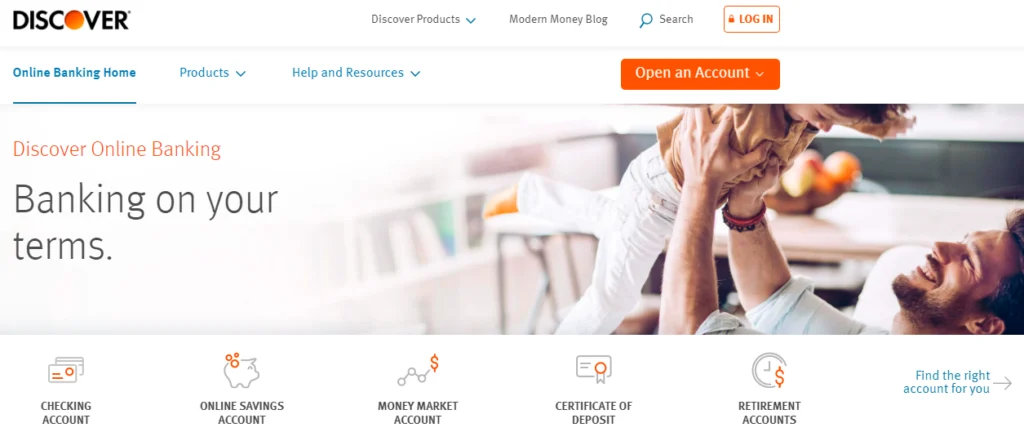 Depositing just $15 to a Discover Bank online savings account can generate a profit of more than $200 in a year. This digital banking platform also offers IRA, CD, money market, and checking accounts allowing you to pick the option you like the most.
Opening any of these accounts makes you eligible to apply for student, home, or personal loans with fixed or variable APR. Obtaining a Discover card can help you improve your FICO score and qualify for a higher credit tier.
Quontic Bank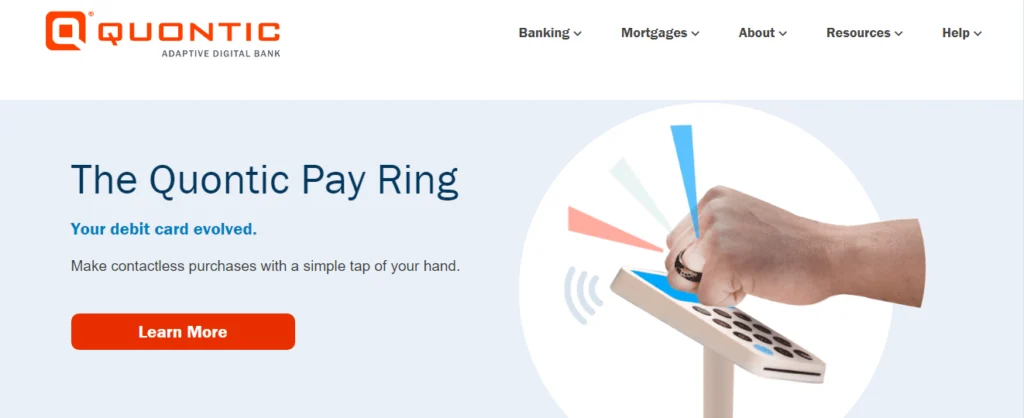 Besides high interest and cash reward checking accounts, Quontic Bank also offers bitcoin checking accounts to its clients. Each of the neobank's savings accounts has high-interest rates, and you'll get a 1.85% APY if you opt for the high yield savings account.
None of the adaptive bank's account options have upkeep or overdraft fees. Quontic offers mortgage loans with low down payment and FICO credit score requirements, but the platform doesn't have auto or personal loan options.
FAQs
Question: Do all Ally Bank's Mortgages Have Fixed Interest Rates?
Answer: Mortgages can have adjustable or fixed rates that range from 4.5% to 5.5% APR.
Question: Can I order checks for my Chime Checking Account?
Answer: This digital bank only has a Checkbook feature that lets you send virtual checks, but it doesn't provide its members with physical checks.
Question: What is Ally Bank's CoverDraft Service?
Answer: This feature eliminates fees for overdraft withdrawals up to $250, but it is only available for users who deposit more than $200 to their checking or savings accounts every month.
Final Thoughts
A broader selection of savings accounts, higher interest rates, or excellent investment options are reasons why I think Ally Bank is a better neobank than Chime. Moreover, getting one of Ally Bank's accounts enables you to apply for personal loans you can use to renovate your home or cover a medical bill.
I like Chime's Credit Builder option that improves the account holder's credit score without the extra charge, and I think it can be beneficial for young people who have to build their credit scores from the ground up.